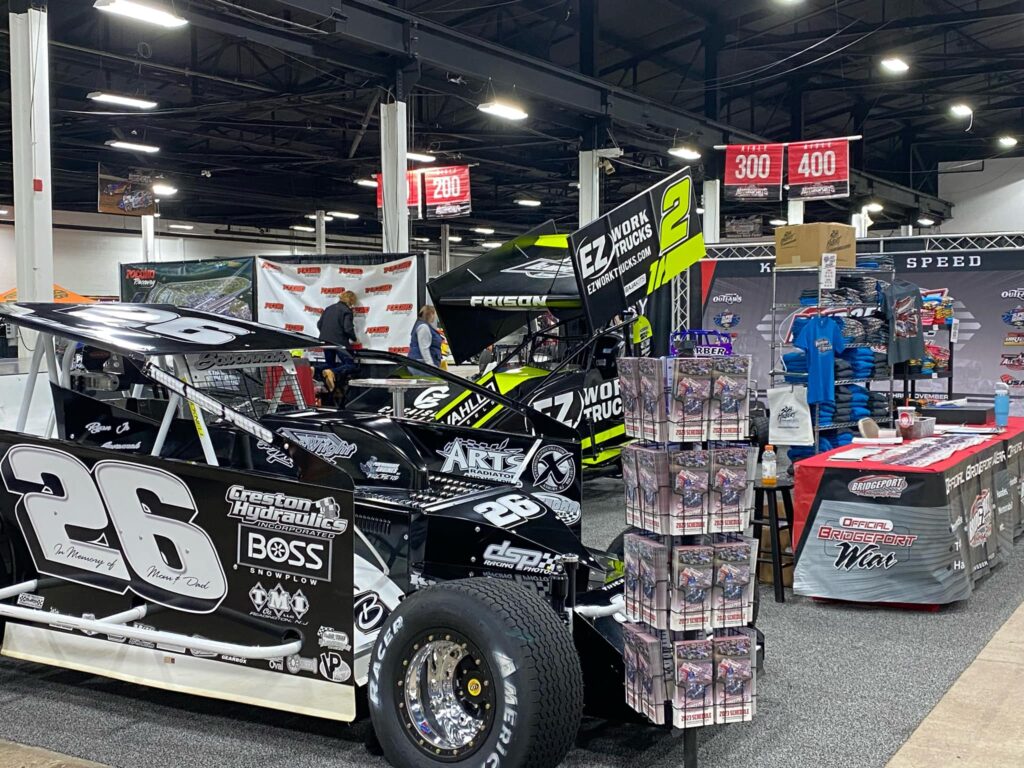 Bridgeport, NJ – Racers and Fans swarmed Bridgeport Motorsports Park Booth this past weekend at the Motorsports Race Car & Trade Show in Oaks, PA.
Bridgeport Motorsports Park participated in the 2023 Pioneer Pole Buildings Motorsports Race Car and Trade Show at the Philadelphia Convention Center in Oaks, PA over the weekend. Track owners, Brittany and Doug Rose were kept busy throughout the show hours, answering questions from an array of drivers and great fans, selling billboard sponsorships, pit passes, pit parking and season tickets.
Bridgeport Speedway featured three competitors from the 2022 season. Back-to-back track Modified champion, Ryan Godown's No. 26, the EZ Works Trucks sponsored No. 2 of CJ Faison representing the Delaware Auto Exchange Mid-Atlantic Sprint Series and the Barber No. 99 all set for Friday night action on the Spirit Speedway quarter mile.
A lot of the conversation over the weekend surrounded the two new attractions coming to the Bridgeport Motorsports Park this season – the American Flat Track race and the High Limit Racing Series. The Flat Track Motorcycles are the pinnacle of flat track racing. This event will receive national coverage through Fox Sports (FS1) when they hit the High Banks on July 22nd . The High Limit Series comes to Bridgeport for the final race on their schedule on October 3rd. Several drivers have already made the commitment to all of the events in this series including Kyle Larson, Rico Abreu and Justin Peck as well as PA Posse drivers, Danny Dietrich and Brent Marks.
The clay is on the way! The new clay will be added to the race track in the near future. The new clay should only make the racing greater than it has been in the past! It will certainly make for an even playing field across the board on opening weekend since it will be the first time on the new surface for all of the competitors.
There is a lot of excitement building for the 2023 season. The addition of the live Flo broadcasts last season has made Bridgeport a household name around the country as people from near and far are able to take in the racing action on the High Banks.
Bridgeport is the place to be in 2023!