BRIDGEPORT CROWNS 2022 TRACK CHAMPIONS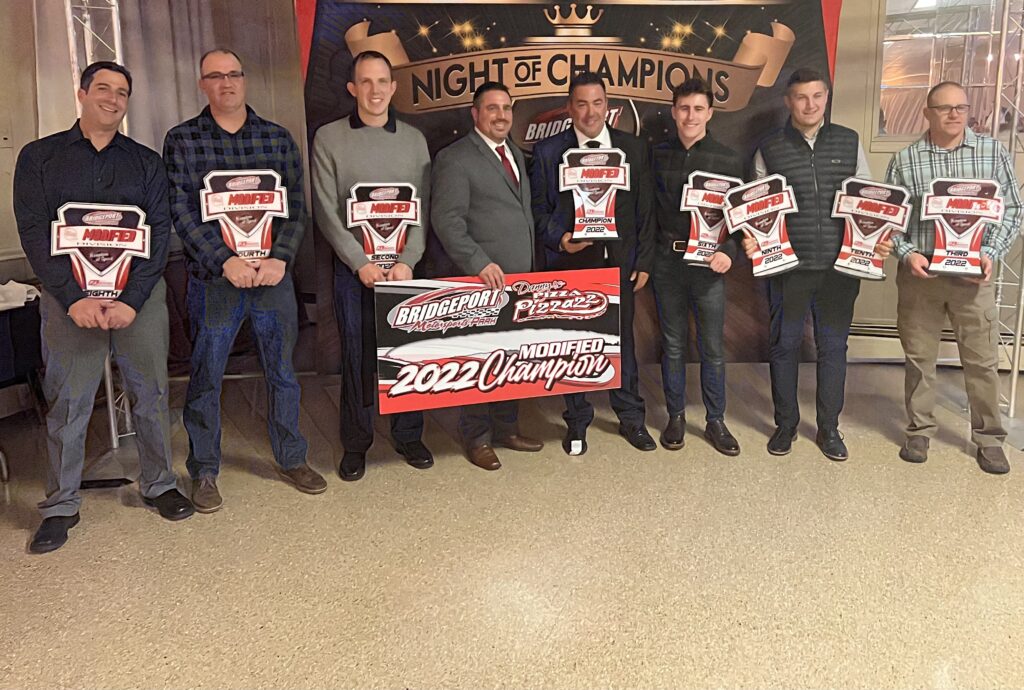 Bridgeport, NJ – The Bridgeport Motorsports Park and Spirit Auto Center Speedway honored their 2022 track champions on Saturday night at the track's annual awards banquet catered by Ellery's Bar & Grill at the Bridgeport Fire Company. This marked the third season of operation for Doug & Brittany Rose who continue to make improvements and to bring all types of racing to the fans at the Logan Township facility. "We wouldn't be able to do what we do without these people," Rose stated as announcers, Barry Angstadt and Jeff Ahlum recognized each employee and their position.
Rose told all in attendance about the big Flat Track event that is being planned for Bridgeport Motorsports Park this season. It will be the first of its kind event for the Tri-State area.
What is there left to say about Ryan Godown and his R&M Motorsports team? Celebrating their back-to-back Bridgeport Championships came as the result of some pretty impressive numbers that were posted throughout the 2022 season in competition with the Danny's Pizza Pizzazz Modifieds. Out of the twenty events run by the Modifieds this season, Godown finished outside the top ten on only two occasions. Fourteen wins were credited to Godown and the No. 26 with extra distance wins coming in the Ron Faison Memorial , the Doug Hoffman Memorial, the Short Track Super Series, the Super DIRTcar race as well as the Danny Serrano 100. After Billy Pauch won the season opener followed by four wins in a row for Godown. A few weeks later, Godown stretched a new winning streak to seven to write a new record in the history books. His fourteen Bridgeport wins tied the mark held by Billy Pauch.
Godown goes out of his way to make sure that everyone understands that his success belongs to his crew, his family and his sponsors. "This is all about these people – without them I'm nothing," Godown pointed out. "I have the fun job – I show up to drive the car." His success has allowed his team to continue to grow, as more sponsors and supporters want to become involved with this team.
And this team plans to keep doing what they have been doing. They continue to find small things to give them more speed and better performance.
Billy Pauch, Jr. brought Godown's win streak to an end at seven wins as he collected the bounty that had been placed on Godown. Pauch, Jr. was the only other driver to score multiple victories this season as he led the points for most of the season – up until the final two races. Pauch, Jr. and the Holsten No. 96 collected thirteen top five. Five time Modified Champion, Ryan Watt captured his first win on the High Banks and finished third in points at season's end. Richie Pratt, Jr. and the Danny's Pizza Pizzazz No. 51 finished fourth with Dominick Buffalino taking fifth with the Big Spring Car Wash No. 126. Ryan Krachun held the one lap record for most of the season and finished sixth in points followed by Neal Williams, Tommy Beamer, Sam Martz and Sammy Martz, Jr. Martz, Jr. also earned Rookie of the Year honors after a very impressive Rookie season.
Mike Franz and Cale Ross were feature event winners during the 2022 season. Just five drivers were able to capture wins on the High Banks during the 2022 season.
The highest form of flattery to a race car driver is to have the respect of his fellow competitors. Tommy Beamer and the Thorton Gulf No. 31 excelled in this area. Beamer has decided to call it a career and received the loudest ovation of any one during the awards banquet. Doug Rose awarded Beamer with the Most Improved Driver Award. Beamer finished eighth in points and came close to being the driver to bring Godown's win streak to a end.
This year's track championship had an extra special meaning as Godown shared the limelight with Ryan Godownm Jr., the 2022 Precision Hydraulic & Oil 602 Sportsman Champion. Godown, Jr. started of the season with back-to-back wins and then finished the year with a total of five feature wins. "I think that I have the best team in the world," Godown. Jr. told those in attendance. "It's all about the work you do in the shop every week."
Howie Finch finished finished second in 602 Sportsman points with a single win followed by Brian Papiez with four wins and Matt Ellery with a single win finishing fourth. Steven Yankowski finished fifth. The 2021 Rookie of Year, Ethan Bill received the Most Improved Driver award after finishing sixth in points and collecting three wins in his sophomore season.
Travis Hill, Wayne Weaver, Brian Rogers and David Jenkins rounded out the top ten in 602 Sportsman points.
Lee Allen raced to his first Bridgeport Motorsports Park Street Stock title against a very tough group of competitors. Allen raced every lap of every feature event, winning six times throughout the season. "I try to win as many races as I can," Allen explained, "it's all about having fun!"
Mike Hughes with five wins finished second followed by Jeramy Doerr with two wins, Jeff Dirkes with three wins and fifth place Nick Sandone finishing fifth with a single win, the first of his career.
Thomas Prychka was the 2022 DA's Auto Body & Repair Rookie Champion after winning the first three races of the season. Prychka is looking for to a full season of 602 Sportsman competition in 2023. Mike Baldwin finished third followed by Vincent Malcom and Hailey Cook. The Rookies were presented with their awards by Rookie Sponsor, Dave Adams.
Ed Ford raced to the Four Cylinder Championship with a perfect record of completing every lap in every race in which he competed. Ford demonstrated the fact that races are won and lost in the garage, not only in the Winner's Circle. Ford edged out Goe Garey, Sr. by just a few points at the end of the season. Ken Johnson finished third.
Most Popular Driver Awards were presented by D&D Media and the Bridgeport Bullet, the official program of the Bridgeport Motorsports Park. Tommy Beamer was the popular winner in the Modified contest. Matt Ellery picked up the award for the 602 Sportsman with Nick Sandone getting the nod in the Street Stock Division. The Bozowski brothers shared the limelight for the quarter mile with PJ Bozowski winning the All. Star Slingshot Most Popular Driver award and Gary Bozowski winning in the 600 Micro Sprints.
Thirteen year old Brayden Morrison of Browns Mills, NJ became the first Junior Slingshot Champion in the track's history. The Junior Slingshots were approved for competition at the start of the 2022 season and they went on to race wins in a row and ended his championship season with a total of ten wins. Christopher Buffalino got a late start on the season and still won seven of the eleven races that he compeed in. Cody Williamson finished third in the final point standings.
In the first Poker Series for the Junior Slingshots, it was Buffalino who won the title over Morrison and Williamson.
Michael Beckett won the Speedway Entertainment All Star Slingshot title for the first time since joining the Slingshot ranks three seasons ago. Amanda Angstadt chased Beckett throughout the season to finish second in points followed by PJ Bozowski, Ryan Davey and Dave Morrell.
Angstadt won her third Poker Series title with three of a kind. Beckett finished second with a pair of Kings and Bozowski's pair of Jacks was good for a third place finish.
Alex Swift teamed up with John and Amanda Blanda to win thier fourth Championship title in the 270 Micro Sprints after winning eight times during the 2022 season. Nick Walton finished second with two win, Lou Nardelli was third with a single win. Tommy Rinc's eighteen top tens put him fourth in points with Nick Skias rounding out the top five with a single win. Dom Pomponi was sixth in points followed by Billy Gray (with two wins), Trevor Waegel, Joe Dopke and Tyler Grau completing the too ten in points.
Swift was also the Poker Series Champion for the 270 Micro Sprints. Swift held a full house for the title followed by Rinck with three of a kind. Skias finished third with a pair.
Matt Smith raced to his third title in the Hyper Racing/EVO Injection 600 Micro Sprints, doing so with eleven top five and and thirteen top ten finishes. PJ Williams fiished second followed by Gary Bozowski, Chris Fenimore and 2021 Champion Connor Gross. Anthony Tramontana. Robert Pierce, Kyle Spence, Rich Deck and Tommy Kunsman, Jr. rounded out the top ten.
One hundred and thirty-five drivers competed in the 600 division this season with eleven different drivers capturing feature wins.