BRIDGEPORT PROMOTORS DOUG AND BRITTANY ROSE HOST DINNER FOR TRACK'S SPONSORS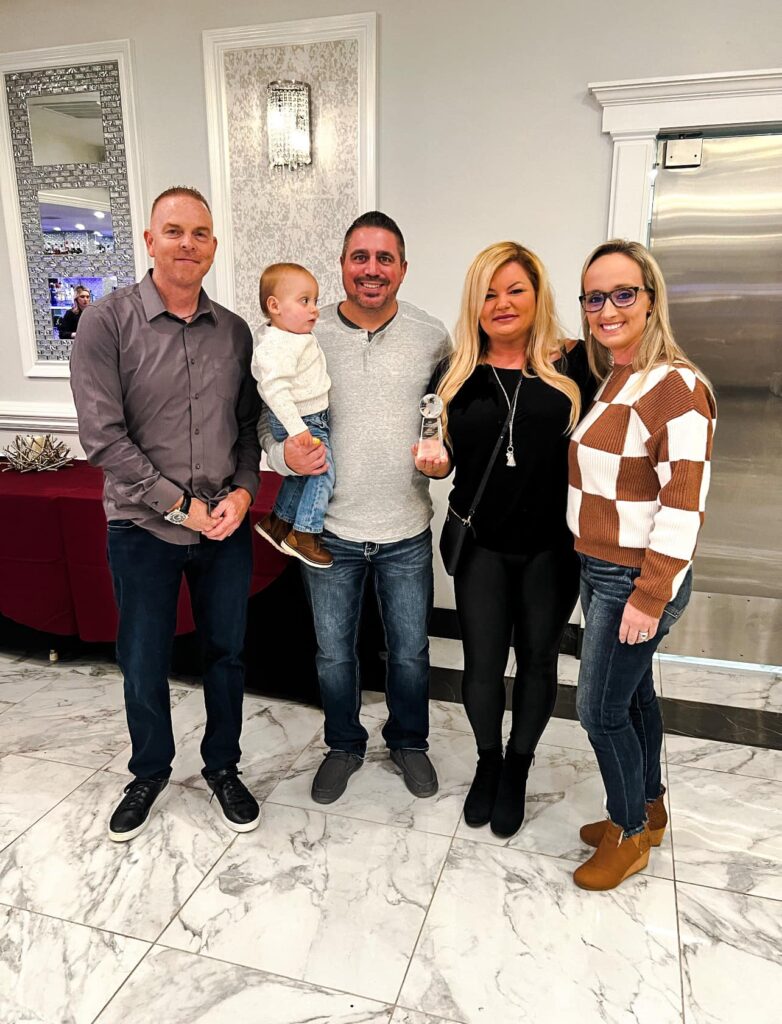 SWEDESBORO, N.J. – It was a great waY to say Thank You!
Doug and Brittany Rose, owners and promoters of Bridgeport Motorsports Park recently held a dinner party at Maria's in Penn's Grove, N.J., for the various track sponsors and business owners who supported the Speedway during the recently completed 2022 racing season.
In all, the business owners who supported the four-tenth-of-a-mile high-banked clay oval, as well as the Spirit Auto one-quarter mile inner oval, and supporters of the Doug Rose and Rich Tobias co-promoted Action Track USA were on hand, and treated to a delicious meal. Dinner attendees were then able to socialize with each other as well as Promoter Rose, who was moving about the room throughout the evening talking individually with the invited guests to personally say Thank You for all of the great support.
Upon arriving, all guests were presented with a gift of appreciation for their commitment and support. Prior to the start of dinner, invited guests were each introduced, and then the gathering was addressed by Doug Rose, who expressed his heartfelt thanks to everyone in attendance for their great support of the various Bridgeport Motorsports Park events. Rose told the gathering it was because of their great backing that he was able to provide not only the weekly racing events at the tracks, but bring in the higher profile national traveling series, which help to push the track into the national spotlight.
Rose was honored and thankful to host the events he did in 2022, and those events he will be having in the new season ahead, all with the tremendous partnerships that have been developed with the great sponsors that Bridgeport is fortunate to have.
The sponsors who support Bridgeport Motorsports Park and Spirit Auto Speedway know that the track has a very busy schedule each season, with events running from March until November, so they know that their sponsorship is viewed by a lot of people and for most of the calendar year. Another huge factor is the live stream coverage of the race programs by Flo Racing for Bridgeport, and The Cushion for Spirit, so the sponsors know their business and products reach a large audience.
Both Doug and Brittany wanted to let the sponsors know, that not only is their financial support greatly appreciated, but by working closely with the sponsors to set up their agreements, it has allowed the Roses' to develop new friendships as well.
The dinner party was a new way in which the Roses' wanted to give back to, and recognize the people who are an important part of the success of the Bridgeport Motorsport Park, Spirit Auto Center Speedway and Action Track USA facilities.
Complete details are always available at www.bridgeportmotorsportspark.com, www.spiritspeedway.com, or www.ActionTrackUSA.com.
Thank you to everyone that makes the Kingdom of Speed Possible…..
Liberty Kenworth
Church's Auto Parts
Premio Sausage
Precision Hydraulic & Oil
Millville Glass & Door
Design For Vision
Rodota Trucking & Excavating
Scrappy's Auto Service
Hyper Racing
Izzi Trucking & Rigging
Danny's Pizza Pizzazz
Vahlco Wheels
Ellery's Pub & Grill
Ice Less llc.
Hoffman Discount Parts
JPA Masonry
Weaknecht Archery
Spirit Auto Center
Foley Caterpillar
Hisko Lowboy
Lineman Racing
Cenco Oil
Bob Hilbert Sportswear
M. Massari and Sons Disposal Services
Cassidy Painting
TW Metals
On The High Side Apparel
Hessert Chevrolet
Atmostemp Heating & Cooling
Drydene
Triple R Truck Parts
John Blewett Scrap & Waste Recycling
Pioneer Pole Buildings
F&L Doors – FLDoors.com
EZ Work Trucks
J&S Electrical
Highway Transport
Melton Industries