NAGY, KLIMECZAK & YOHN OPEN BRIDGEPORTS DANNY SERRANO WEEKEND WITH WINS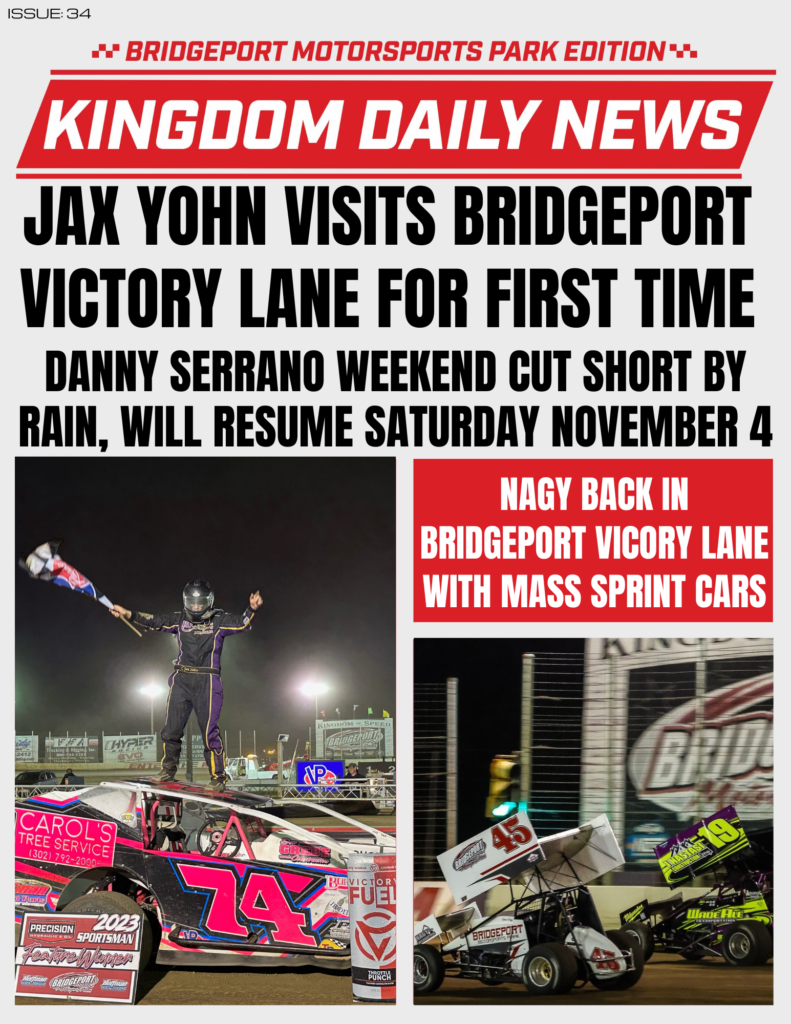 Bridgeport, NJ – The Bridgeport Motorsports Park opened what was to be the three day Danny Serrano weekend on Friday night featuring DCB's Plumbing and Heating Mid Atlantic Sprint Series (MASS) for their final point race of the season presented by EZ Work Trucks.  The Izzi Trucking & Rigging Street Stocks produced a new winner and three drivers earned redraw spots for Saturday's race by setting fast time in the three times sessions for the Danny's Pizza Pizazz Modifieds.  The Precision Hydraulic & Oil Sportsman competed in a twenty lap Underdog 20 for any non winning driver in the 2023 season.
With the 305 Nationals presented by MASS and the Bridgeport Motorsports Park in mid-October, Friday night's event also served as a final tune-up prior to the big weekend. Several new names appeared in the Friday night line-ups including Jordan Spahr, Christian Rumsey and Nick Sweigert. Matt McAnally made his first start in the 305s with a sharp looking No. 6.
Kevin Nagy set fast time in hot laps to receive D Capps Carpentry Fast Time award. Nagy went on to put that speed to good use in the feature event.
The twenty-five lap main event got off to a rough start. The original start saw Bob DeVault and defending champion, Buddy Schweibinz get together between turns one and two when DeVault got turned and then made contact with the infield tire. The No. 4 came across the track just in time to collect Schweibinz who had nowhere to go. Both drivers were eliminated from competition before the first lap could be completed.
The field lined up for the complete restart with polesitter, Dale Eggert and Tim Iulg leading the field to the green. Eggert's No. 32 broke as the field headed to the green. Iulg went up and over Eggert but was able to continue as the race leader.
The third time was the charm as Iulg jumped out to an early lead. Andy Best applied some pressure to the race leader in the first few laps before Nagy closed in on Best to challenge for second. Nagy came away with second on lap three and set his sights on Iulg who had begun to pull away from the field.
By lap six, the leaders had caught the back of the field. Iulg led the way through lap ten followed by Nagy, Best, Larry McVay and Christian Rumsey.
Best drew a caution on lap fourteen. Nagy used a slide job between turns three and four to take the lead from Iulg on the lap fifteen restart.
Nagy was able to pull away from the field. McVay closed the gap on Iulg but it was Iulg who raced across the finish line behind Nagy on lap twenty-five. McVay finished third followed by Rumsey and Mike Melair. Melair, Kenny Laureno and Jeff Paulson had been involved in a close battle with Melair taking fifth in the closing laps.
Laureno finished sixth followed by Paulson, Cory Cornell, Rick Stief and Darren Cox. Aidan Borden was on his way to a top ten finish when mechanical ills struck on the final lap of the race.
Nagy dedicated the win to his mother, Lorraine, who had just come home from the hospital on Friday and watched the race with her husband on Flo Friday evening. The Nagy's are loyal fans and can usually be found in the grandstands on race night.
In spite of his lap one departure, Buddy Schweibinz had secured his second MASS Championship earlier in the evening. The eighteen year old driver now has back-to-back championships in 305 competition in just his third season of sprint car competition. The MASS competitors celebrated the 2023 title with a pizza party courtesy of Danny's Pizza Pizzazz!
Gary Klimeczak put Rich Stinson's No. 27 into Champion Brands LLC Hi-Tech Lubricants Victory Lane for his first win on the High Banks. Klimeczak has several wins on the 5/8th mile track.
After losing his father earlier in the season, Klimeczak accepted Stinson's invitation to compete in his No. 27 and it has been a win-win situation for parties.
Klimeczak led all fifteen laps of the feature, eventually pulling away from Jeramy Doerr who raced in second. Bailey Tolson raced in third behind Doerr after an earlier battle with Mike Hughes in another No. 18 but Hughes was sidelined with mechanical issues.
It was Klimeczak for the win over Doerr, Tolson, TJ Henry and Duncan Molesworth.
Christopher Allen, Jr. competed in his uncle's (Lee Allen) No. 98B in preparation for the upcoming Street Stock Nationals. Allen can usually be found in the cockpit of a sprint car. Allen finished sixth in Friday night's feature over Nick Sandone, Spider Ensinger and Mike Hughes.
Jax Yohn raced to his first Bridgeport victory after battling with Matt Ellery for the lead in the Precision Hydraulic & Oil Underdog 20 for any non-winning driver in this division this season. Ellery led the first eight laps before Yohn was able to dive to the inside in turn three to take the lead on lap nine.
In spite of several cautions and restarts, Yohn held the lead and raced to the checkered flag for the win. Ellery finished second followed by Tom Sherby, Stephen Yankowski and Rich Wegner, Jr. Matt Smith finished sixth with Howard Huepful, Brian Rogers, Billy Chester and Luke Bunting rounding out the top ten.
Neal Williams, Rick Laubach and Dillon Steuer were the fast timers in the three timed hot lap sessions for the Danny Pizza Pizzazz Modifieds.
Unfortunatley, the weather was the winner on Saturday and Sunday. Some of the remaining events will become part of the High Banks weekend. Watch for forthcoming announcements.
The action switches to the Spirit Auto Center quarter mile this weekend for the Danny Serrano Skyscraper event for the 270 and 600 Micro Sprints.
PRECISION HYDRAULIC & OIL 602 SPORTSMAN UNDERDOG 20 (20 LAPS) –
1. Jax Yohn, 2. Matt Ellery, 3. Tom Sherby, 4. Stephen Yankowski, 5. Rich Wegner, Jr., 6. Matt Smith, 7. Howard Huepful, 8. Brian Rogers, 9. Billy Chester, 10. Luke Bunting, 11. Ryan Lilick, 12. Shane Kassekert, 13. Aaron Weaver, 14. Justin Newhard, 15. Anthony Sisco, 16. Thomas Prychka, 17. Pete Serra, 18. Chris Martinez, 19. Ed Owens, 20. Dave Damiano, 21. Erik Mattson, 22. Robert Tete, 23. Wayne Weaver, 24. Ethan Young, 25. Dakota Kohler, DNS – Tim Franks, Dirk Rimrott, Josh Bricker.
MASS 305 SPRINTS (25 LAPS)
1. Kevin Nagy, 2. Tim Iulg, 3. Larry McVay, 4. Christian Rumsey, 5. Mike Melair, 6. Kenny Laureno, 7. Jeff Paulson, 8. Cory Cornell, 9. Rick Stief, 10. Darren Cox, 11. Phil Meisner, 12. Eddie Wagner, 13. Josh Bricker, 14. Aidan Borden, 15. Dan Leaper, 16. Scott Frack, 17. Dirk Rimrott, 18. Andy Best, 19. Dave Brown, 20. Matt McAnally, 21. Nick Sweigert, 22. R. J. Panella, 23. D. J. Tanner, Jr., 24. Dale Eggert, 25. Bobby DeVault, 26. Logan Spahr, 27. Buddy Schwebinz
STREET STOCKS (15 LAPS)
1. Gary Klimeczak, 2. Jeramy Doerr, 3. Bailey Tolson, 4. T. J. Henry, 5. Duncan Molesworth, 6. Christopher, Allen, Jr., 7. Nick Sandone, III, 8. Spider Ensinger, Sr., 9. Ken Moren, 10. Mike Hughes
Thank you to everyone that makes the Kingdom of Speed Possible…..
VP Fuels
Liberty Kenworth
Church's Auto Parts
Premio Sausage
Precision Hydraulic & Oil
Millville Glass & Door
Design For Vision
Rodota Trucking & Excavating
Scrappy's Auto Service
Hyper Racing
Izzi Trucking & Rigging
Danny's Pizza Pizzazz
Vahlco Wheels
Ellery's Pub & Grill
Ice Less llc.
Hoffman Discount Parts
JPA Masonry
Weaknecht Archery
Spirit Auto Center
Foley Caterpillar
Hisko Lowboy
Lineman Racing
Cenco Oil
Bob Hilbert Sportswear
Cassidy Painting
TW Metals
Hessert Chevrolet
Triple R Truck Parts
John Blewett Scrap & Waste Recycling
Pioneer Pole Buildings
F&L Doors – FLDoors.com
EZ Work Trucks
J&S Electrical
Melton Industries
Pro Tek Roofing
Johns Manville
Beacon Building Products
KOA Camp Grounds
Victory Fuel
Tipico Sportsbook
Champion Brands
DTM Kawasaki
Amwell Auto Body
Williams Napa
Prime Design Landscaping