JORDAN WATSON RACES TO BRIDGEPORT VICTORY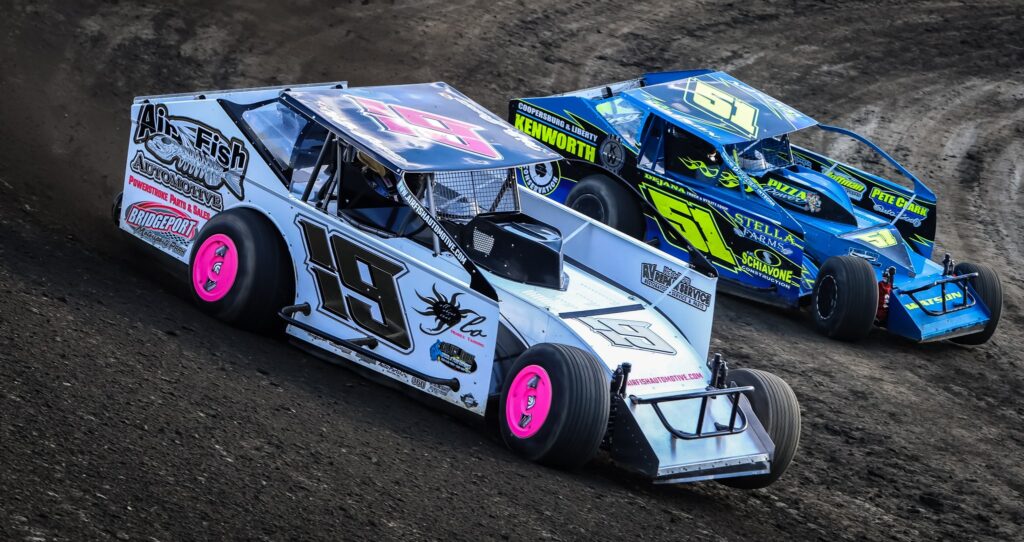 Bridgeport, NJ – Jordan Watson raced to his first win of the season at the Bridgeport Motorsports Park and his first win since joining the Danny's Pizza Pizzazz No. 51 Racing Team. Watson bettered his performance of a week ago and led the way to the checkered flag in thirty lap Modified feature. TIm Iulg earned his first win in the Delaware Auto Exchange Mid Atlantic Sprint Series (MASS) while Ethan Bill earned his first Precision Hydraulic & Oil 602 Sportsman win of the season. Eddie Barber III raced to his fourth win in the DA's Auto Body & Repair Rookies. Eric Degler was the winner of the Tipico Sportsbook 4 Cylinder for his first ever win in this division.
WB James grabbed the lead on the start and led the Danny's Pizza Pizzazz Modifieds through the five to go sign. Jordan Watson raced into second on lap twenty-four after a side-by-side battle with Stan Frankenfield for the runner-up spot. Watson immediately closed the gap on the leader. With just four laps to go, Watson was in position to challenge James for the lead, diving to the inside as the leaders headed to turn three. Watson slid low to high to take the race lead with a lapped car positioned between the leader and James in second.
Watson led the final four circuits to collect his first Bridgeport Motorsports Park win of the season and become the eighth different driver to collect a feature win on the High Banks this season. James finished second for his best run of the season – a little disappointed with the loss of the win but still pleased with the night's performance. Billy Osmun raced in the top five throughout the thirty lap event, taking third in the final laps. Stan Frankenfield had a great outing to finish fourth. His pass between turns three and four to take second was certainly one of the outstanding moves of the race. Joseph Watson raced his way from mid-pack to finish fifth.
Last week's winner, Duane Howard, finished sixth followed by Mike Franz, Neal Williams, HJ Bunting and Sean Metz who just moved into Modified competition this season.
"I wanted this one bad," Watson said following his win. "This place has haunted me for a while now."
F&L Doors Modified heat races were won by James, Neal Williams and Sammy Martz, Jr.
Tim Iulg is no stranger to Bridgeport or sprint cars but on Saturday night, Iulg was able to deliver his first win to Ale Racing. Iulg was the big winner in the Jasper Sprints that were a big part of the 5/8th mile track history. Saturday night's win opened a new chapter for the second generation driver and car owner, Vance Ale.
Iulg start third but went to the outside of Scott Frack to take the lead on the first lap. Consecutive green flag laps had the leader catching the back of the field on lap seven. By the time the caution waved for the first time on lap nineteen, Iulg was slicing his way through heavy traffic which allowed Frack and defending MASS Champion, Buddy Schweibinz to close in on the leader. The lap twenty restart was a mixed blessing as it closed up the field but gave Iulg a clear track ahead. And Iulg took advantage of the clear track as he raced ahead on the restart and put some distance between himself and the competition.
Iulg took the win with Dave Brown racing into second in the final laps. Frack finished third followed by Schweibinz and DJ Tanner. Andy Best, Kevin Nagy, Eddie Wagner, Bobby DeVault and Josh Bricker completed the top ten in the rundown.
EZ Work Trucks heat races were won by Schweibinz, Brown and John Brennfleck.
Ethan Bill raced to his first win of the season in the Precision Hydraulic & Oil 602 Sportsman feature event, putting him into a tie with Travis Hill in the point standings. There is still plenty of racing left to run but Bill and Hill have been consistent with top five positions so far this season so fans can be assured of a battle in the standings in the months to come.
Brian Rogers led the first eight laps of the feature event. After plenty of bad luck so far this season, it was great for Rogers to be out in front. Bill challenged Rogers on a lap six restart but Rogers battled back. Bill took the lead on lap nine with Rogers, Pete Serra, Travis Hill and Brandon Shipley racing in the top five at halfway.
A bout of yellow fever struck the Sportsman competitors in the final ten laps, certainly trying the patience of race leader, Ethan Bill. At the end of twenty-five laps, it was Bill for the win over Hill, Matt Peck, Stephen Yankowski and Billy Chester. Dave Jenkins, Dan Hulmes, Scott Hulmes, Brian Rogers and Justin Newhard completed the top ten in the running order. After his great start, Rogers was involved in a backstretch incident but was able to restart at the rear of the field and race his way to a top ten finish.
Hoffman Discount Parts heat races were won by Robert Tete, Pete Serra and Bryan Brobst.
Eddie Barber III was back in winning form as he picked up his fourth win in the DA's Auto Body & Repair Rookies. In this week's event, Aaron Conover was able to keep Barber within striking distance as he raced to a second place finish. Jason Dipretore finished third.
Eric Degler raced to the win in the Tipico Sportsbook 4 Cylinder feature event for his first win in this division. Tim Jones, Dan Stein, Jr. and Ed Ford raced nose-to-tail to finish second, third and fourth. Joe Garey, Jr. finished fifth.
DANNY'S PIZZA PIZZAZZ MODIFIEDS (30 LAPS):
Jordan Watson, 2. W.B. James, 3. Billy Osmun, III, 4. Stan Frankenfield, Jr., 5. Joseph Watson, 6. Duane Howard, 7. Mike Franz, 8. Neal Williams, 10. H.J. Bunting, 11. David Hunt, 12. Sam Martz, Jr., 13. Jack Swain, 14. Brett Kelly, 15. Tommy Scheetz, 16. Sam Martz, Sr., 17. Cale Ross, 18. Rick Laubach, 19. Blaine Bracelin, 20. Daylton Strohl, DNS – J.R. Fulper, Ron Roberts
PRECISION HYDRAULIC & OIL 602 SPORTSMAN FEATURE (25 LAPS):
Ethan Bill, 2. Travis Hill, 3. Matt Peck, 4. Stephen Yankowski, 5. Billy Chester, 6. David Jenkins, 7. Danny Hulmes, 8. Scott Hulmes, 9. Brian Rogers, 10. Justin Newhard, 11. David Hartman, 12. Robert Tete, 13. Ed Owens, 14. Brandon Shipley, 15. Anthony Sisco, 16. Pete Serra, 17. Bryan Brobst, 18. Ethan Young, 19. Thomas Prychka, 20. Brian Papiez, 21. Dave McElroy, 22. Brandon Watkins, DNS – Aaron Conover, Matt Luzi, Luke Bunting,
DELAWARE AUTO EXCHANGE MID-ATLANTIC SPRINT SERIES FEATURE (25 LAPS)
Tim Iulg, 2. Dave Brown, 3. Scott Frack, 4. Buddy Schweibinz, 5. D.J. Tanner, Jr., 6. Andy Best, 7. Kevin Nagy, 8. Eddie Wagner, 10. Tyler DeVault, 11. Josh Bricker, 12. Jon Brennfleck, 13. Jeff Paulson, 14. Joe Kay, 15. Jared Kreider, 16. Larry McVay, 17. Rick Stief, 18. Cory Cornell, 19. Dale Eggert, 20. Kenny Laureno, 21. Darren Cox, 22. Shelby Kelly, 23. Dirk Rimrott, DNS – Ian Borden, Jason Dunn, Keith Anderson, Justin Nowlen
D.A.'S AUTO BODY & REPAIR FEATURE (7 LAPS)
Eddie Barber, III, 2. Aaron Conover, 3. Jason DiPetore, 4. Ed Owens, 5. Dave McElroy
TIPICO SPORTSBOOK FOUR CYLINDERS FEATURE (15 LAPS)
Eric Degler, 2. Tim Jones, 3. Dan Stein, Jr., 4. Ed Ford, 5. Joe Garey, Jr., 6. John Parker, 7. Mike Stein, Sr., 8. Joe Garey, Sr.
Thank you to everyone that makes the Kingdom of Speed Possible…..
VP Fuels
Liberty Kenworth
Church's Auto Parts
Premio Sausage
Precision Hydraulic & Oil
Millville Glass & Door
Design For Vision
Rodota Trucking & Excavating
Scrappy's Auto Service
Hyper Racing
Izzi Trucking & Rigging
Danny's Pizza Pizzazz
Vahlco Wheels
Ellery's Pub & Grill
Ice Less llc.
Hoffman Discount Parts
JPA Masonry
Weaknecht Archery
Spirit Auto Center
Foley Caterpillar
Hisko Lowboy
Lineman Racing
Cenco Oil
Bob Hilbert Sportswear
Cassidy Painting
TW Metals
Hessert Chevrolet
Triple R Truck Parts
John Blewett Scrap & Waste Recycling
Pioneer Pole Buildings
F&L Doors – FLDoors.com
EZ Work Trucks
J&S Electrical
Melton Industries
Pro Tek Roofing
Johns Manville
Beacon Building Products
KOA Camp Grounds
Victory Fuel
Tipico Sportsbook
Champion Brands
DTM Kawasaki
Amwell Auto Body
Williams Napa
Prime Design Landscaping