Daniels Strikes Back at Bridgeport Half-Mile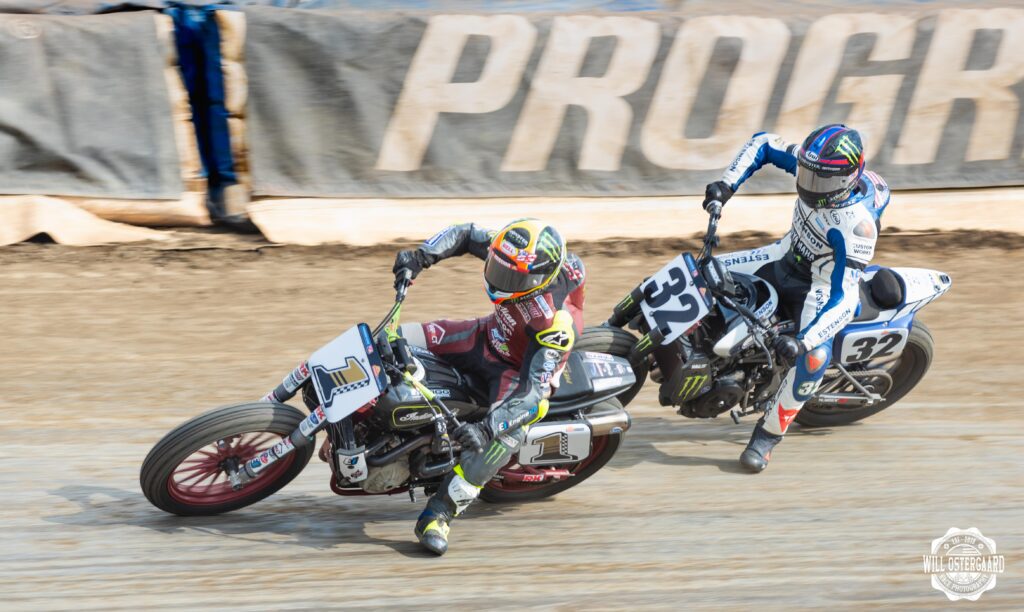 DAYTONA BEACH, Fla. (July 22, 2023) – Rising star Dallas Daniels (No. 32 Estenson Racing Yamaha MT-07 DT) claimed a cathartic victory in the Drag Specialties Bridgeport Half-Mile as Progressive American Flat Track, sanctioned by AMA Pro Racing, made an unforgettable debut at Bridgeport Speedway in Swedesboro, New Jersey.
Daniels' triumph came by a scant 0.095 seconds over his Mission SuperTwins presented by S&S Cycle title rival, Jared Mees (No. 1 Indian Motorcycle/Rogers Racing/SDI Racing FTR750), with JD Beach (No. 95 Estenson Racing Yamaha MT-07 DT), Davis Fisher (No. 67 Rackley Racing/Bob Lanphere's BMC Racing Indian FTR750), and Brandon Robinson (No. 44 Mission Roof Systems Indian FTR750) all in contention for a win.
The victory couldn't have been better timed for the Estenson Racing ace, as he simultaneously halted Mees' momentum and reclaimed the title lead, if only by two points (280-278). The outcome was arguably even more important for his psyche after he'd wound up second in a series of prior head-to-head matchups with the legendary rider.
Mees, who controlled the middle portion of the race after getting past early leader Beach, was unable to drop the pack the way he did last time out. That's in part due to the fact that Beach, Daniels, and Fisher – all desperate to prevent that escape from transpiring – continued to attempt to slide underneath Mees. Those attempts would occasionally see a rider other than Mees sneak into first momentarily but never in a way that the lead change stuck.
That is until Daniels worked out a high line that allowed him to roll through the corners and power down the straights. That line eventually allowed him to storm past Mees and immediately open a small advantage.
But the cagey Mees adapted and closed back in for one last strike. That came in the race's final corner, where the champ attempted a slide up on the leader's flank, but Daniels kept it pinned and held Mees at bay by just fractions of a second at the line.
The win was Daniels' first-ever Half-Mile triumph in the premier class, moving him to within a TT win of the Grand Slam. It also saw him up his season-long podium streak to 13 in the process.
"It's been one heckuva year," a jubilant Daniels said. "These Half-Miles are kind of the kryptonite for the Yamaha and for me on a twin. I remember on the 450, I won like six Half-Miles in a row in 2020, but when I got on a twin, it was kind of difficult.
"Jared has just been kicking our butt. He won every Mile and almost all the Half-Miles. This is his forte right here. I had to reach back and grab that one. I was so nervous. That top – you've really got to roll it. It's all about momentum. For a couple laps, I was just trying to get in the lead so I could do it. I knew once I cleared their front, I could roll. It just feels so good. It's so awesome."
Beach, Fisher, and Robinson finished third through fifth, respectively, with Briar Bauman (No. 3 Parts Plus/Jacob Companies KTM 790 Duke) leading the second half of the top-ten in sixth.
Jarod Vanderkooi (No. 20 JMC Motorsports/Fairway Ford Indian FTR750) came home in seventh, followed by Henry Wiles (No. 17 BriggsAuto.com/Martin Trucking Indian FTR750), Ben Lowe (No. 25 Rackley Racing/Mission Foods Indian FTR750), and Cameron Smith (No. 34 Martin Trucking/Fredericktown Yamaha MT-07).
Parts Unlimited AFT Singles presented by KICKER
Tom Drane (No. 59 Estenson Racing Yamaha YZ450F) continued the torrid start to his Progressive AFT career, scoring a third Parts Unlimited AFT Singles presented by KICKER victory in just 14 attempts.
After dominating his heat and Al Lamb's Dallas Honda Challenge, the young Aussie came into the Main Event as the strong favorite to end the evening atop the box. And while that ultimately proved true, he had to earn it.
Drane found himself mired in fifth following a less than ideal opening lap. He then had to work to erase the gap and systematically fight his way through Jared Lowe (No. 63 Mission Foods/Helmet House Honda CRF450R), Chad Cose (No. 49 1st Impressions Race Team/Husqvarna Racing FC450), and Chase Saathoff (No. 88 American Honda/Mission Foods CRF450R) before finally shifting his sights to the race-long leader.
That happened to be his teammate, Trevor Brunner (No. 21 Estenson Racing Yamaha YZ450F), who had pulled more than a second on the field in his bid to secure a first win of the season.
Drane pushed Brunner's hope back at least another weekend. He reeled in his Estenson Racing stablemate and then threw a series of slide jobs at him before finally overhauling him in a pass that saw the two make contact mid-corner.
Once out front, the Drane freight train continued full steam ahead and he took the checkered flag with nearly a second in hand.
Drane said, "I was just working the whole race, trying to catch up. And then right towards the end I got close enough to make the move – I didn't mean to run into him, but that's just racing. I can't thank the whole team for all the work they put in throughout the day. Their work makes this all possible. I'm going to keep it going, keep the confidence up, and go into the next race just like this one."
Max Whale (No. 18 Red Bull KTM Factory Racing 450 SX-F) made it two Aussies in the top three, finishing off his charge up from seventh with a last-corner overtake of Saathoff to steal away the final spot on the podium.
Trent Lowe (No. 48 American Honda/Mission Foods CRF450R) executed an impressive climb of his own, battling his way from the LCQ and an early 13th-place position to round out the top five.
Lowe's run up through the field came at the expense of reigning class champion Kody Kopp (No. 1 Red Bull KTM Factory Racing 450 SX-F), who was a tick off his usual form most of the night.
The Red Bull KTM star finished sixth after winning the previous three races. But despite the minor dip in form, Kopp still boasts a commanding championship lead, which now stands at 45 points (255-210) over Saathoff. Brunner is a close third with 208 points, while the surging Drane has closed to within striking distance of second as well at 207.
Next Up:
The stars of Progressive American Flat Track will now tackle one of the most renowned races in two-wheel motorsport with this year's edition of the famed SC2 Peoria TT at the Peoria Motorcycle Club in Peoria, Illinois, on Sunday, July 30. Visit https://www.tixr.com/groups/peoriamotorcycleclub/events/peoria-tt-60731 to reserve your seats today.
For those that can't catch the live action from the circuit, FansChoice.tv is the live streaming home of Progressive AFT. Sign up now and catch every second of on-track action starting with Practice & Qualifying and ending with the Victory Podium at the end of the night at https://www.fanschoice.tv.
FOX Sports coverage of the Drag Specialties Bridgeport Half-Mile, featuring in-depth features and thrilling onboard cameras, will premiere on FS1 on Sunday, July 30, at 1:30 p.m. ET (10:30 a.m. PT).
For more information on Progressive AFT visit https://www.americanflattrack.com.
Thank you to everyone that makes the Kingdom of Speed Possible…..
VP Fuels
Liberty Kenworth
Church's Auto Parts
Premio Sausage
Precision Hydraulic & Oil
Millville Glass & Door
Design For Vision
Rodota Trucking & Excavating
Scrappy's Auto Service
Hyper Racing
Izzi Trucking & Rigging
Danny's Pizza Pizzazz
Vahlco Wheels
Ellery's Pub & Grill
Ice Less llc.
Hoffman Discount Parts
JPA Masonry
Weaknecht Archery
Spirit Auto Center
Foley Caterpillar
Hisko Lowboy
Lineman Racing
Cenco Oil
Bob Hilbert Sportswear
Cassidy Painting
TW Metals
Hessert Chevrolet
Triple R Truck Parts
John Blewett Scrap & Waste Recycling
Pioneer Pole Buildings
F&L Doors – FLDoors.com
EZ Work Trucks
J&S Electrical
Melton Industries
Pro Tek Roofing
Johns Manville
Beacon Building Products
KOA Camp Grounds
Victory Fuel
Tipico Sportsbook
Champion Brands
DTM Kawasaki
Amwell Auto Body
Williams Napa
Prime Design Landscaping