ROSS, BILL, TOLSON & HURLEY HONOR DANNY SERRANO WITH WINS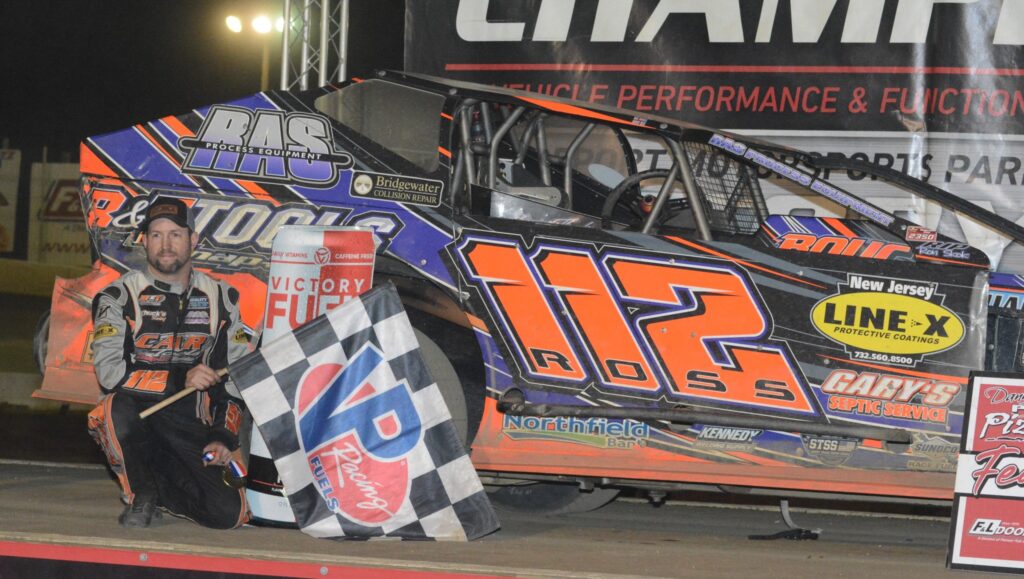 Bridgeport, NJ – The Danny Serrano High Banks Classic Weekend sponsored by John Blewett Scrap & Recycling was two days of great racing – a tribute to a man that who gave so much to area racing.  He was a huge fan and even when racing became his occupation, he never lost that sense of awe and excitement that made him such a great fan.
Danny would have been thrilled with the racing on his weekend.
The Danny's Pizza Pizzazz Modifieds always provide great racing for this event and they certainly didn't disappoint this year.
At the wave of the green, multi-year Bridgeport Speedway Champion, Wade Hendrickson took the lead – a lead that he would not relinquish until lap thirty-two when Ryan Krachun put his Amwell Auto Body No. 29 out in front, moving to the inside of Hendrickson and Pat Michael's No. 51m on the backstretch. Krachun was fast. The black No. 29 was awesome all day – from winning the third heat to his march through the field from his eighth place start and into the lead, looking for his first win on the High Banks in 2023.
Cale Ross, a two time feature winner this season, was racing hard. He passed Hendrickson on lap thirty-three and set his sights on Krachun. The leaders raced through traffic. Ross challenged for the lead on lap thirty five and held the advantage as he and Krachun raced across the stripe on lap thirty-six but Krachun was back out in front on lap thirty-seven.
With ten laps to go, Krachun led Ross, Jess Strunk in the Terry Fastnacht, Conestoga Kitchens, No. 2a, Danny Bouc and Brandon Grosso. Bouc raced in fourth after starting deep in the field as the winner of the consolation.
Jimmy Horton drew a caution on lap forty-three as he slowed with a flat on the Halimar No. 43. During this caution, Krachun headed to the pits with a flat tire and a lost shock, relinquishing the lead to Ross for the restart.
Ross chose the outside for the restart, leading Strunk, Hendrickson, Dillon Steuer and Bouc to the green flag.
There was plenty of action among the top five in the final laps. Strunk tried for the lead on the restarts but Ross raced ahead. "He drove a perfect race," Strunk commented after the race. Bouc raced in third as Frank Cozze took over fourth in the final laps. With just two laps to go, Dominick Buffalino drove the Vclavicek No. 3v into fifth.
Ross led Strunk, Bouc, Cozze and Buffalino to the checkered. Grosso finished sixth with Hendrickson, Jojo Watson, Billy Pauch, Jr. and Davey Sammons completing the top ten.
"We're all thinking about Danny today," Ross stated in Champion Brands Victory Lane. Ross related how he had struggled for a little while. This week, he sent his shocks to Dale Planck at DIG Race Pro Shocks. Planck got them in the morning, performed the required work and had them on their way back to Ross on the same day. "We never unload quick here but his weekend we did," Ross explained. "I really felt good about today." First, third and fifth place cars all raced with Gary Bouc power under their hoods.
F&L Doors heat races were won by Krachun, Pauch and Stangle with Bouc winning the consolation.
The Precision Hydraulic & Oil 602 Sportsman were not to be outdone by the Modifieds. They had a thirty-five lap Bruce Ward Memorial Race presented by Prime Design Landscapting to run and they did not disappoint.
Ethan Bill turned a race that he wasn't going to run into a win – the 7th of his career.
Ethan's Dad, Johnny is the wrench turner on the No. 14 but was out West on a hunting trip so Ethan recruited some friends to help him – from getting the car to the track to pit help for the race.
Ryan Simmons was the early race leader when Bill took over second on a lap two restart. Simmons and Bill raced side-by-side on a lap six restart with Bill taking the lead. Bill led Simmons, 2023 Champion, Travis Hill, Jax Yohn and Brian Papiez through lap ten. Hill moved up to second by halfway.
It looked like the race would be a replay of the 2023 track championship until Hill headed to the pits with mechanical issues with twelve laps to go.
Papiez raced in second with ten laps to go but the car on the move in the final laps was Matt Ellery. Ellery worked his way through the top five until he took second from Papiez in the final five laps.
It was Bill for the win over Ellery, Papiez, Simmons and Howie Finch. Adam White finished sixth followed by Jax Yohn, Matt Peck, Stephen Yankowski and Thomas Prychka.
When Bill went to Champion Brands Victory Lane he was joined by Logan Watt who Bill credited with getting him "dialed in" for the win.
Hoffman Discount Parts heat races were won by Yohn, Bill, Brandon Shipley and Papiez with Joseph Brown and Craig Pellegrini picking up the wins in the two consolations.
Bailey Tolson picked up his first ever win at the Bridgeport Motorsports Park in the Izzy Trucking & Rigging Street Stock feature. Tolson raced Jeramy Doerr for the lead on a lap four restart. It was close racing as Doerr, Tolson, Klimeczak and Combs raced for position and Doerr rubbed the backstretch wall. Klimeczak and Combs raced for second through the remaining laps.
Tolson led Jimmy Combs to the finish with Gary Klimeczak, Jeramy Doerr and Nick Sandone chasing the leaders to the checkered.
Doerr was the winner of the DTM Powersports heat race.
Kyle Hurley raced to his first ever win in the Tipico Sportsbook 4 Cylinders. Hurley led 2023 4 Cyliner Champion, Tim Jones to the checkered followed by Dominic Antonelli, Joe Garey Sr. and John Parker.
DANNY'S PIZZA PIZZAZZ MODIFIED – DANNY SERRANO 50 FEATURE (50 LAPS)
1. Cale Ross, 2. Jeff Strunk, 3. Danny Bouc, 4. Frank Cozze, 5. Dominick Buffalino, 6. Brandon Grosso, 7. Wade Hendrickson, 8. Joseph Watson, 9. Billy Pauch, Jr., 10. Davey Sammons, 11. Jordan Watson, 12. Rick Laubach, 13. Sammy Martz, Jr, 14. Jimmy Horton, 15. Dillon Steuer, 16. Sam Martz, Sr., 17. Ryan Krachun, 18. Mike Franz, 19. Johnny Bangs, 20. W.B. James, 21. Mark Kratz, 22. D.J. Hunt, 23. Roger Manning, 24. Bobby Trapper, Jr., 25. Ryan Grim, 26. Jim Gallagher, Jr., 27. H.J. Bunting, 28. Stan Frankenfield, 29. Eric Kormann, 30. Matt Stangle, DNQ – Will Dupree
PRECISION HYDRAULIC & OIL 602 SPORTSMAN – BRUCE WARD MEMORIAL FEATURE (35 LAPS) – 1. Ethan Bill, 2. Matt Ellery, 3. Brian Papiez, 4. Ryan Simmons, 5. Howie Finch, 6. Adam White, 7. Jax Yohn, 8. Matt Peck, 9. Stephen Yankowski, 10. Thomas Prychka, 11. Nick VanWickle, 12. Jon Meyer, 13. Brian Rogers, 14. Joseph Brown, 15. Bob Lineman, Jr., 16. Billy Chester, 17. Craig Pellegrini, 18. Brandon Shipley, 19. Travis Hill, 20. Brandon Edgar, 21. Andrew Bohn, 22. Ryan Higgs, 23. George Gareis, 24. Michael White, 25. Steve Kemery, DNS – Paul Mancini, Luke Bunting, DNQ – Rich Wegner, Jr., David Jenkins, Justin Newhard, Sara Napora, Jeff Parker, Tim Franks, Kris Thompson, Dan Adler, Anthony Sisco, David Hartman, Robert Tete
IZZY TRUCKING & RIGGING STREET STOCK FEATURE (15 LAPS)
1. Bailey Tolson, 2. Jimmy Combs, 3. Gary Klimeczak, 4. Jeramy Doerr, 5. Nick Sandone, III, 6. Ken Moren, 7. Gary Bozowski, 8. Jeff Dirkes, 9. Al Suhr
TIPICO SPORTSBOOK FOUR CYLINDER FEATURE (20 LAPS)
1. Kyle Hurley, 2. Tim Jones, 3. Dominic Antonelli, 4. Joe Garey, Sr., 5. John Parker, 6. Ed Ford, 7. Todd Francis, 8. Joe Garey, Jr., 9. Lee Allen, 10. Eric Degler, 11. Justin Benz, 12. Bobby Johnson
Thank you to everyone that makes the Kingdom of Speed Possible…..
VP Fuels
Liberty Kenworth
Church's Auto Parts
Premio Sausage
Precision Hydraulic & Oil
Millville Glass & Door
Design For Vision
Rodota Trucking & Excavating
Scrappy's Auto Service
Hyper Racing
Izzi Trucking & Rigging
Danny's Pizza Pizzazz
Vahlco Wheels
Ellery's Pub & Grill
Ice Less llc.
Hoffman Discount Parts
JPA Masonry
Weaknecht Archery
Spirit Auto Center
Foley Caterpillar
Hisko Lowboy
Lineman Racing
Cenco Oil
Bob Hilbert Sportswear
Cassidy Painting
TW Metals
Hessert Chevrolet
Triple R Truck Parts
John Blewett Scrap & Waste Recycling
Pioneer Pole Buildings
F&L Doors – FLDoors.com
EZ Work Trucks
J&S Electrical
Melton Industries
Pro Tek Roofing
Johns Manville
Beacon Building Products
KOA Camp Grounds
Victory Fuel
Tipico Sportsbook
Champion Brands
DTM Kawasaki
Amwell Auto Body
Williams NapaPrime Design Landscaping