NIGHT ONE OF BRIDGEPORT STREET STOCK NATIONALS PRODUCES GREAT RACING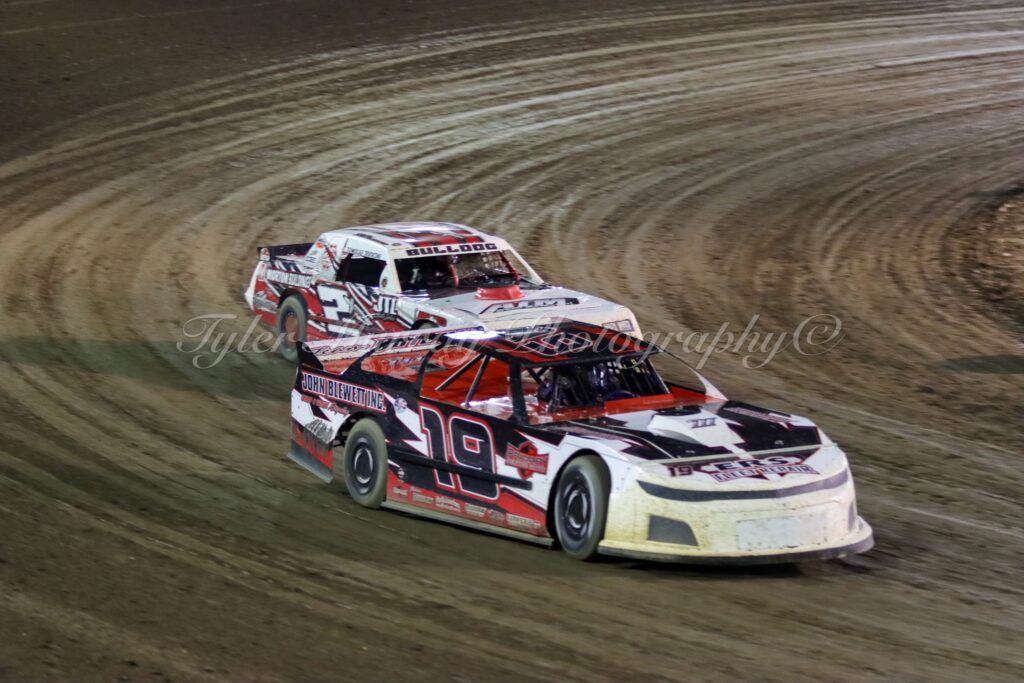 Bridgeport, NJ – It was the first of two nights of racing at the Bridgeport Motorsports Park for the Doug Rose and Frank Cozze 3rd Annual Street Stock Nationals presented by Harry's U-Pull-It and Giels Automotive and fans got to see some great racing among three divisions plus Vintage Stock Cars.  The track was in great shape and the drivers put every inch of its surface to good use!
Rob Ormsbee picked up the win in the first fifteen lap Street Stock qualifier. Eddie Sites grabbed the lead from his outside pole position start, leading the field to the completion of lap one. Ormsbee, Sites and James Grant race three wide for the lead on the second lap with Ormsbee winning the battle. Several single car incidents had the field under caution in the remaining laps but Ormsbee's lead was never challenged. Ormsbee took the win over Sites, Grant, Shane Wolf, Ryan Smith and Kyle Saylor with six cars transferring to Saturday's 100 lap $10,000 to win main event. Bridgeport's own Andrew Joslin will race for a qualifying spot in one of the Last Chance Qualifiers along with Jeramy Doerr and Nick Sandone who experienced some issues during the qualifier.
In the second Street Stock qualifier, polesitter, Billy Walker took the lead on the start. Walker travels all the way from his home in Alabama to compete in this event every year. Tyler Dietz, defending Street Stock Nationals champion, quickly moved into challenge for the lead. Dietz took the lead on lap three with Dylan Cecce advancing to second. Brett Crawford, Drew Brocklebank and Travis Webster battle throughout the fifteen laps to improve their position. Dietz raced to the win over Cecce, Crawford, Brocklebank who was the first Bridgeport regular to qualify for the main event, and Webster.
The third qualifier saw Chris Allen, Jr. behind the wheel of his uncle's No. 98B. Allen is normally behind the wheel of a wingless sprint car but he looked right at home in the full-fendered car. Allen took the lead on the start and then held off the challenges of Jasen Gessaman for several laps. Geesaman took the lead on lap five as 2023 Bridgeport Street Stock Champion, Tom Wills, Jr. moved into third. While Wills looked for a way to take second, Bailey Tolson closed in on Wills to challenge for third. Tolson took over third and then took a look at Allen to challenge for second. Tolson made hard contact with the wall , bringing out the caution on lap twelve and sidelining Tolson from the qualifier. With just three laps to go, Allen headed to the pits for a tire change. Geesaman took the win with Kyle Deneen taking over second in the final laps. Wills finished third in front of the Spider Ensinger Family – Spider, Jr. finished fourth, followed by Spider, III and Spider, Sr.
Mike Melair raced to his first win on Bridgeport's High Banks with the DCB's Plumbing and Heating Mid Atlantic Sprint Series (MASS).
Nick Sweigert and Melair led the field to the green flag with Melair taking the lead after a battle with Sweigert for the position. Phil Meisner, Eddie Wagner and 2023 MASS Champion, Buddy Schweibinz battled behind the leaders. With Melair out in front, Schweibinz moved by Wagner to take over fourth on lap four.
The leaders caught the back of the field on lap eight and battling traffic became the next challenge. At times, Sweigert was able to close the gap on Melair while they picked their way through traffic.
Schweibinz moved into third at the halfway mark but the leaders were long gone.
Melair's biggest challenge came from lapped traffic, many who were racing for position in front of the leader. Melair came off the wall several times in the final laps as he tried to navigate his way through the traffic.
Melair took the win over Schweibinz, Dave Brown who raced into third late in the race, Tim Iulg and Nick Sweigert who slowed on the final lap but was able to salvage a top five finish. Phil Meisner finished sixth after racing in the top five for most of the race. Ryan Stillwaggon followed in seventh with Kevin Nagy, Larry McVay and Eddie Wagner completing the top ten at the checkered.
Lee Allen raced to his second Four Cylinder win of the season as he raced into the lead on lap two and never looked back. There was plenty of action behind the leader as Jason Peck, Kyler Stahl and Dan Stein, Jr. battled for second during the fifteen lap feature. Allen took the win over Stein, Rob Pyle, Stahl and Eric Degler.
Night 1 was complete with a big day coming up on Saturday!
STREET STOCK QUALIFIER #1 (15 LAPS)
1. Rob Ormsbee, 2. Eddie Sites, 3. James Grant, 4. Shane Wolf, 5. Ryan Smith, 6. Kyle Saylor, 7. John Carpenter, 8. Andrew Joslin, 9. Jeramy Doerr, 10. Shane Grosso, 11. Josh Bassino, 12. Nick Sandone, III, 13. Chris Murray, 14. Duncan Molesworth
STREET STOCK QUALIFIER #2 (15 LAPS)
1. Tyler Dietz, 2. Dylan Cecce, 3. Billy Walker, 4. Brett Crawford, 5. Drew Brocklebank, 6. Travis Webster, 7. Jimmy Combs, 8. Terry Chaney, 9. Scott Freed, 10. Joshua O'Neal, 11. Ken Moren, 12. Andrew Fitzgerald, DNS – T.J. Henry, Chris Stalkr
STREET STOCK QUALIFIER #3 (15 LAPS)
1. Jasen Gessaman, 2. Kyle Deneen, 3. Tom Wills, Jr., 4. Spider Ensinger, Jr., 5. Spider Ensinger, III, 6. Spider Ensinger, Sr., 7. Bob Slate, 8. Chris Allen, Jr., 9. Kevin Heckman, 10. Mike Diana, 11. Gary Ronk, 12. Mike McClay, 13. Bailey Tolson, 14. Rick Potter
MID-ATLANTIC SPRINT SERIES (25 LAPS)
1. Mike Melair, 2. Buddy Schweibinz, 3. Dave Brown, 4. Tim Iulg, 5. Nick Sweigert, 6. Phil Meisner, 7. Ryan Stillwaggon, 8. Kevin Nagy, 9. Larry McVay, 10. Eddie Wagner, 11. Kenny Laureno, 12. Rick Stief, 13. Jeff Paulson, 14. D.J. Tanner, Jr., 15. Jared Kreider, 16. Cory Cornell, 17. Danny Buccafusca, 18. Dale Eggert, 19. Matt McAnally, 20. Dan Leaper, 21. Aidan Borden, 22. Dirk Rimrott, 23. Joe Kay, 24. Mark Bitner, DNS – Keith Anderson
FOUR CYLINDERS (15 LAPS)
1. Lee Allen, 2. Dan Stein, Jr., 3. Rob Pyle, 4. Kyler Stahl, 5. Eric Degler, 6. Joe Garey, Sr., 7. Ed Ford, 8. Jason Peck, 9. Shane Flaherty, 10. Bobby Johnson, 11. Dominic Antonelli, 12. Joe Garey, Jr., DNS – Garrett Mull, Justin Benz
Thank you to everyone that makes the Kingdom of Speed Possible…..
VP Fuels
Liberty Kenworth
Church's Auto Parts
Premio Sausage
Precision Hydraulic & Oil
Millville Glass & Door
Design For Vision
Rodota Trucking & Excavating
Scrappy's Auto Service
Hyper Racing
Izzi Trucking & Rigging
Danny's Pizza Pizzazz
Vahlco Wheels
Ellery's Pub & Grill
Ice Less llc.
Hoffman Discount Parts
JPA Masonry
Weaknecht Archery
Spirit Auto Center
Foley Caterpillar
Hisko Lowboy
Lineman Racing
Cenco Oil
Bob Hilbert Sportswear
Cassidy Painting
TW Metals
Hessert Chevrolet
Triple R Truck Parts
John Blewett Scrap & Waste Recycling
Pioneer Pole Buildings
F&L Doors – FLDoors.com
EZ Work Trucks
J&S Electrical
Melton Industries
Pro Tek Roofing
Johns Manville
Beacon Building Products
KOA Camp Grounds
Victory Fuel
Tipico Sportsbook
Champion Brands
DTM Kawasaki
Amwell Auto Body
Williams Napa
Prime Design Landscaping