MATT STANGLE RACES TO VICTORY IN BRIDGEPORT MODIFIEDS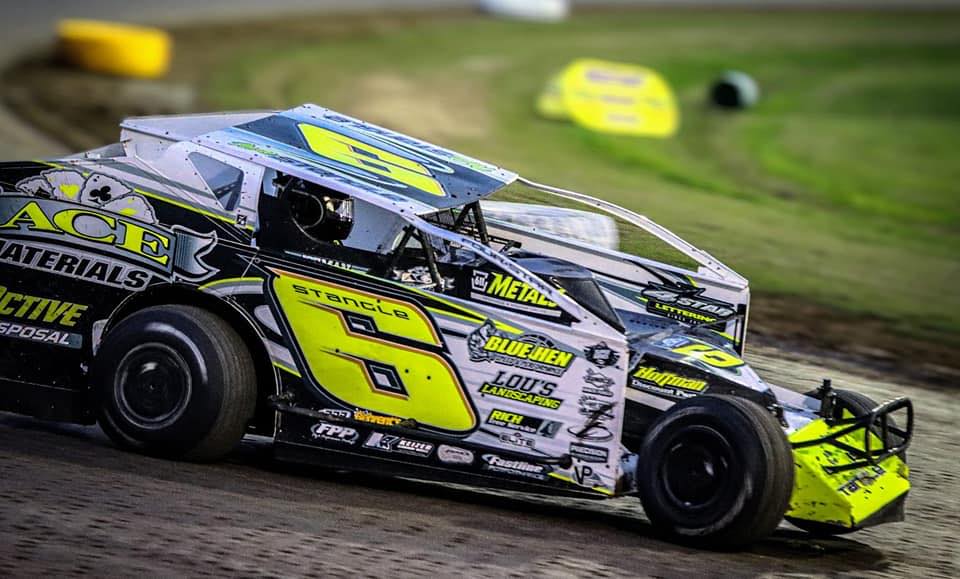 Bridgeport, NJ – There was no shortage of congratulations and hand shakes as Matt Stangle raced for the win in the Danny's Pizza Pizzazz Modified feature event on Saturday night at the Bridgeport Motorsports Park.  
Stangle did a lot of winning on the former 5/8th mile track during his years in Crate Sportsman competition. His Saturday night victory marked his second on the High Banks. He has been close too many times to count.
Saturday's night events also marked a win of another kind – a win for the track versus Mother Nature as the five division show was completed before the weather moved into the Logan Township area.
Third generation driver, Billy Osmun took the lead on the original start and raced the No. 81 ahead of the field for the first twelve laps. Single car cautions kept the field tight during the early part of the race but Osmun had everything well in hand. A lap twelve restart, saw Stangle line up along side of Osmun and then race into the lead as the pair raced out of turn two. Stangle then distanced himself from the competition.
Stangle led Osmun, Neal Williams, Duane Howard and Sammy Martz, Jr. at halfway.
Stangle set a torrid pace on a fast track – just off the pace of the track record set by Darren Smith during the Super DIRTcar event. Smith set the mark at 15.477 seconds. Stangle was turning laps of 15.524 during the thirty lap Modified feature event.
There was plenty of side-by-side racing throughout the field until a multi-car homestretch incident eliminated the cars of Sam Martz, Frank Cozze, Blaine Bracelin, Carson Wright, David Crossman and Sean Metz. Wright went for a wild ride but all drivers escaped injury.
Stangle raced to the checkered flag for the win with Osmun finishing second. Duane Howard put the Butch Getz No. 15G in third, racing from deep in the feature line-up. Jordan Watson finished fourth in the Danny's Pizza Pizzazz No. 51 while HJ Bunting put the Blue Hen No. 30 in fifth on the final lap as he edged out Rick Laubach on the way to the checkered flag. Laubach finished sixth followed by Cale Ross, Jim Britt, Joseph Watson and JR Fulper.
F&L Doors heat races were won by Stan Frankenfield, Osmun and David Hunt.
After a late race flat deprived Matt Peck of a victory a few weeks ago, Peck raced to the win in the Precision Hydraulic & Oil 602 Sportsman.
Dave Jenkins led the race until a lap six caution saw Jenkins head pitside with mechanical issues. It was Brian Papiez who led the field back to the green as Howie Finch and Peck battled for second. Peck moved into second on a lap ten restart, leaving the battle for third to Finch and Travis Hill.
Peck had the lead as the field headed to the line on lap fifteen and Papiez headed to the pits for a tire change.
Peck raced to the win over Finch, Hill, Ethan Bill and Stephen Yankowski. 2022 Rookie Champion, Thomas Prychka finished sixth followed by Papiez who raced his way back to a seventh place finish. Billy Chester, Dan Hulmes and Pete Serra completed the top ten at the finish.
The Hoffman Discount Parts heat races were won by David Jenkins, Eric Matson and Howie Finch.
Eddie Barber III made it two in a row in the DA's Auto Body Rookie feature event. Jason Dipretore stayed within striking distance to finish second followed by Dylan Montieth in third.
For the third time this season, Tom Wills, Jr. raced to the win in the Melton Industry Street Stocks, using a three wide move between Nick Sandone and Jeramy Doerr to take the lead. Doerr raced in Wills tracks to finish second followed by Mike Hughes, Gary Klimeczak in the Stinson No. 27 and Drew Brocklebank.
Nick Sandone III and Spider Ensinger were the winners of the ProTek Roofing heat races.
The Tipico Sportbook North East Wingless Sprints were won by Brenden Hires. Rich Mellor took the lead from the outside pole and led through lap fifteen. Hires raced into second early and then trailed Mellor until the five to go mark. Hires raced by Mellor to take the lead on lap sixteen and then survived a last lap, last corner slide job to pick up the win. Trailing Hires to the flag were Mellor, Shea Wills, Brian Spencer and Larry Drake.
Shea Wills was the winner of the Victory Fuels heat race.
Action returns to the High Banks on Thursday evening with the All Star Circuit of Champions and the Danny's Pizza Pizzazz Modifieds for a great double header show. Pits open at 3pm, grandstands at 5pm and racing at 6:15pm. Then on Saturday, May 25th it's the Mid Atlantic Sprint Series along with 602 Sportsman, Street Stocks, Rookies and Vintage.
DANNY'S PIZZA PIZZAZZ MODIFIEDS FEATURE (30 laps):
1. Matt Stangle, 2. Billy Osmun, III, 3. Duane Howard, 4. Jordan Watson, 5. H.J. Bunting, 6. Rick Laubach, 7. Cale Ross, 8. Jim Britt, 9. Joseph Watson, 10. J.R. Fulper, 11. Sammy Martz, Jr., 12. Neal Williams, 13. David Crossman, 14. Carson Wright, 15. Frank Cozze, 16. Sam Martz, Sr., 17. Blaine Bracelin, 18. Sean Metz, 19. Mike Franz, 20. W.B. James, 21. Stan Frankenfield, Jr., 22. David Hunt
PRECISION OIL & HYDRAULIC 602 SPORTSMAN FEATURE (25 laps):
1. Matt Peck, 2. Howie Finch, 3. Travis Hill, 4. Ethan Bill, 5. Stephen Yankowski, 6. Thomas Prychka, 7. Brian Papiez, 8. Billy Chester, 9. Dan Hulmes, 10. Pete Serra, 11. Justin Newhard, 12. Chris Martinez, 13. Brian Rogers, 14. Shane Kassekert, 15. David Hartman, 16. Robert Tete, 17. Scott Hulmes, 18. Erik Mattson, 19. David Miloczar, 20. David Jenkins, 21. Bryan Brobst, 22. Jim Dallett, 23. Ethan Young, 24. Brandon Shipley, DNS – Ed Owens
D.A. AUTO BODY & REPAIR ROOKIES (8 laps):
1. Ed Barber, III, 2. Jason Dipretre, 3. Dylan Monteith, 4. Ed Owens
TIPICO SPORTBOOK NORTHEAST WINGLESS SPRINT FEATURE (20 laps):
1. Brendan Hires, 2. Rich Mellor, 3. Shea Wills, 4. Brian Spencer, 5. Larry Drake, 6. Joe Byer, 7. Stan Ploski, III, 8. Al Cheney
MELTON INDUSTRY STREET STOCK FEATURE (15 laps):
1. Tom Wills, Jr., 2. Jeramy Doerr, 3. Mike Hughes, 4. Gary Klimeczak, 5. Drew Brocklebank, 6. Nick Sandone, III, 7. Terry Chaney, 8. Spyder Ensinger, 10. Kevin Heckman, DNS – Lee Allen, Christopher Allen, Sr.