KYLE REINHARDT PLEASES THE JERSEY CROWD WITH BRIDGEPORT OCTOBERFEST WIN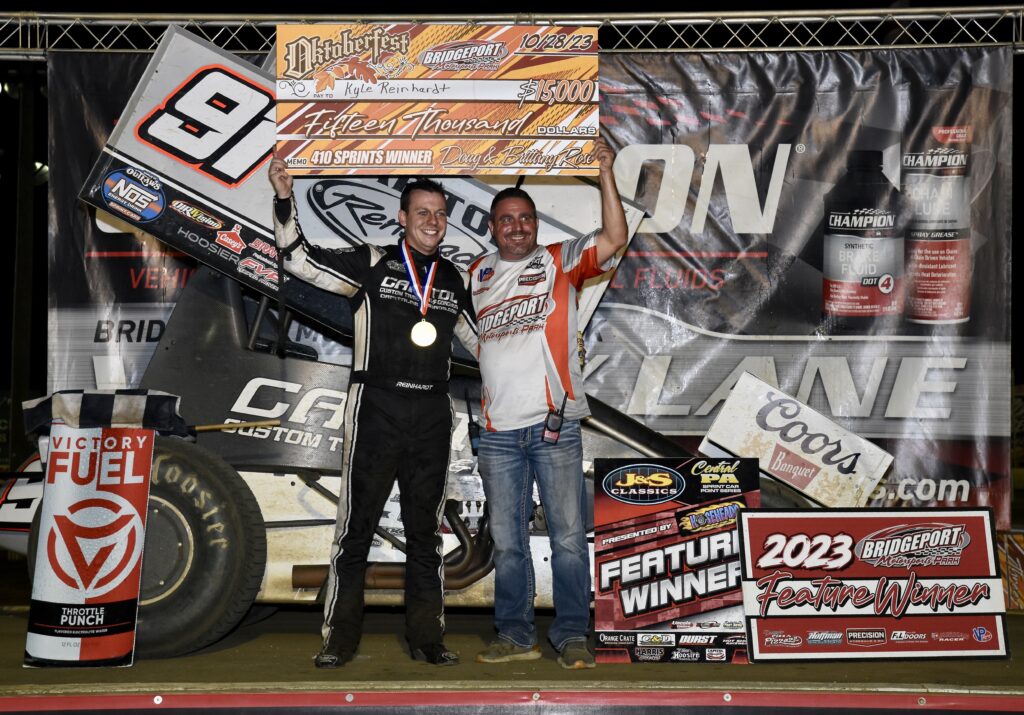 Bridgeport, NJ – The third time was the charm!
It was for Kyle Reinhardt anyway! In his third 410 Sprint Car race of the 2023 season at the Bridgeport Motorsports Park, Reinhardt wheeled the Capitol Custom Trailers & Coaches No. 91 to victory and a $15,000 payday in front of a large crowd that was only too pleased to see the "hometown" guy pick up the win in his home state.
In just his second race back behind the wheel, Alex Bright raced to the win in the Rapid Tire/Capitol Renegade USAC East Coast Wingless Sprint Car feature event over 2023 USAC East Coast Champion, Briggs Danner.
Neal Williams became the first three-time winner in the Danny's Pizza Pizzazz Modifieds as he raced to the win over Joseph Watson.
Bridgeport's Octoberfest, sponsored by Professional Design Services, was a huge hit! There was something for every race fan's interest on the two-day program. All divisions were well represented in car count as well as talent. The weather was fantastic – shirt sleeves at the end of October! Trick or Treat for the kids! It was great weekend of racing. Bridgeport's Doug Rose was more than satisfied with the outcome. "This race was not a successful event for us last year," Rose related. "We made some changes to the program, had great weather and cheered for the Diamondbacks," Rose said with a chuckle. Last year's event ran against the Philadelphia Phillies in the World Series.
Kyle Reinhardt finished second behind Tyler Courtney in the All Star Circuit of Champions race in spring and then picked up a top five during the High Limit event earlier this month. On Saturday night, Reinhardt was the class of the field.
Anthony Macri, Reinhardt and Tyler Ross set fast time during the three timed sessions on Friday night, earning transfer spots for Saturday night's main event. F&L Door heat races were won by Justin Peck, Tyler Ross and Pauli Colagiovanni. Peck raced to the win in the three lap dash to earn the pole for the feature event. Reinhardt's runner-up finish put on the outside of the front row.
Peck and Reinhardt battled for the lead on the start of the thirty-five lap main event with Reinhardt pulling ahead of Peck as the two drivers headed down the backstretch. Macri, Colagiovanni and Dietrich chased the leader through the first few laps.
Macri's race came to an end after contact on lap nine for the first caution of the race. On the restart, Reinhardt led the way over Peck and Colagiovanni and Devon Borden who battled for third while Dietrich ran in fifth.
Justin Whittall raced into the top five just before halfway but then needed the caution on lap nineteen when he got turned around between turns three and four. The yellow went to an open red to allow the field to take on fuel.
When the field went back to green flag racing, Reinhardt led the way as Dietrich took over second followed by Peck, Freddie Rahmer and Tyler Ross who started from the rear of the field after having trouble getting the No. 5 to fire for the start of the race.
Reinhardt was able to stretch his lead in the remaining laps, taking the win over Dietrich, Peck, Ross and Rahmer. Cameron Smith finished sixth followed by Dylan Norris, Devon Borden, Kyle Spence and Ricky DiEva.
"I love racing here," Reinhardt exclaimed following his win. "I love racing in New Jersey. This track is realy bad-ass fast!" Reinhardt had a lot of friends and family in attendance. Some of Reinhardt's biggest challenges came from the lapped cars in the late stages of the race. "I hit two of them," Reinhardt explained. "They were everywhere!"
When racing in traffic, both Dietrich and Peck were able to close in on the leader. "Traffic really makes for better racing," Dietrich explained. "Clean air is such an advantage."
Alex Bright returned to competition for the final two races on the USAC East Coast schedule after recovering from injuried sustained in a racing accident in Indiana earlier this year. With a titanium plate and a number of screws, doctors were able to put his shattered wrist together and Bright is clearly not hampered by the injury.
Bright led every lap of the twenty-five lap main event for the wingless sprints. Kenny Miller III raced in second from lap two until lap sixteen when Briggs Danner arrived on the scene, racing from his ninth place start. Bright was long gone, well out of Danner's vision with just nine laps to go but by the time the checkered flag waved, Danner had closed the gap and was racing just a handful of car lengths behind the feature winner.
Miller regained third in the final laps over Joey Amantea who finished fourth. Tim Buckwalter in the Rodota Trucking/Lotier No. 20 rounded out the top five. Three time USAC EC Champion, Steven Drevicki finished sixth followed by Mike Thompson, J.T. Ferry, Bobby Butler and Preston Lattomus.
Danner's second place finish was more than enough to earn the Allentown, PA driver his second USAC EC Wingless Sprint Championship as well as the owner's title for Hogue Racing.
F&L USAC EC heats were won by Joe Amantea and Alex Bright.
Neal Williams raced to his third win of the season in the New Jersey Overhead Door No. 0. Not only did the win make Williams the winningest Bridgeport competitor this season, but his third win came on his first we. dding anniversary with his wife, Sarah.
Davey Sammons and Joseph Watson led the field to the start of the twenty-five lap Modified feature. On the original start, the caution was needed quickly as Billy Osmun III, Jim Gallagher and David Crossman were involved in a tangle. On the complete restart, Watson took the lead and led Williams, Rick Laubach, Sammons and Dominick Buffalino through lap five.
The caution waved again on lap six when Clay Butler got out of shape in turn three. Watson held off Williams' challenge on the restart as Sammons raced in third over Laubach and Cale Ross.
Williams stayed right with Watson has they continued to race around the High Banks. The field was slowed on lap eighteen when Osmun came to a stop in turn two. Watson elected the outside on the restart and got out ahead of the field. The cars of Williams, Laubach, Sammons and HJ Bunting were racing hard coming out of turn four on the restart. Everyone made it down the homestretch but damage on the Hermann No. 7 caused Laubach to come to a stop in turn two. Laubach headed to the pits as did Sammons under the caution.
On this restart, Williams raced Watson down the homestretch and into the turn. As the field headed down the backstretch, Williams moved out in front to take the lead. Williams led the rest of the way to the checkered flag to collect the win over Watson, Bunting, Dillon Steuer and Buffalino. Ross finished sixth followed by Wade Hendrickson, Sammy Martz, Jr., Sam Martz, Sr., Jimmy Gallagher and 2023 Track Champion, Jordan Watson.
Williams expressed to thanks to the many people who made up the No. 0 and made this season successful. It was Williams' final race of the 2023 season as he and Sarah head out on vacation this week.
F& L Door Modified heats were won by Sammy Martz, Jr., Rick Laubach and Cale Ross.
410 SPRINT FEATURE (35 LAPS)
1. Kyle Reinhardt, 2. Danny Dietrich, 3. Justin Peck, 4. Tyler Ross, 5. Freddie Rahmer, 6. Cameron Smith, 7. Dylan Norris, 8. Devon Borden, 9. Kyle Spence, 10. Ricky Dieva, 11. Dave Brown, 12. Lucas Wolfe, 13. Dallas Schott, 14. Tyler Esh, 15. Bryce Norris, 16. Jordan Poirier, 17. Dominic Melair, 18. Stephen Dows, 19. Justin Whittall, 20. Timmy Buckwalter, 21. Paulie Colagiovanni, 22. Anthony Macri, 23. Mark Bitner, 24. Dirk Rimrott, DNS – Joey Amantea
USAC EAST COAST WINGLESS SPRINT FEATURE (25 LAPS)
1. Alex Bright, 2. Briggs Danner, 3. Kenny Miller, III, 4. Joey Amantea, 5. Timmy Buckwalter, 6. Steve Drevicki, 7. Mike Thompson, 8. J.T. Ferry, 9. Bobby Butler, 10. Preston Lattomus, 11. Austin Graby, 12. Ed Aikin, 13. Mick D'Agostino,14. Scott Frack,
15. Jason Cherry, 16. Richard Carnathan, 17. Jonathan Swanson, 18. Gary Huston, 19. Aidan Borden, DNS – Patrick Chilmonik
DANNY'S PIZZA PIZZAZZ MODIFIED FEATURE (25 LAPS)
1. Neal Williams, 2. Joseph Watson, 3. H.J. Bunting, 4. Dillon Steuer, 5. Dominic Buffalino, 6. Cale Ross, 7. Wade Hendrickson, 8. Sammy Martz, Jr., 9. Sam Martz, Sr. 10. Jim Gallagher, 11. Jordan Watson, 12. W.B. James, 13. Ryan Grim, 14. J.R. Fulper,
15. Chris Grbac, 16. Mark Kratz, 17. Clay Butler, 18. Rick Laubach, 19. Davey Sammons, 20. Billy Osmun, III, 21. D.J. Hunt, 22. David Crossman, 23. Roger Manning,
24. Mike Franz, 25. Dirk Rimrott, 26. Dallas Briedenbach
Thank you to everyone that makes the Kingdom of Speed Possible…..
VP Fuels
Liberty Kenworth
Church's Auto Parts
Premio Sausage
Precision Hydraulic & Oil
Millville Glass & Door
Design For Vision
Rodota Trucking & Excavating
Scrappy's Auto Service
Hyper Racing
Izzi Trucking & Rigging
Danny's Pizza Pizzazz
Vahlco Wheels
Ellery's Pub & Grill
Ice Less llc.
Hoffman Discount Parts
JPA Masonry
Weaknecht Archery
Spirit Auto Center
Foley Caterpillar
Hisko Lowboy
Lineman Racing
Cenco Oil
Bob Hilbert Sportswear
Cassidy Painting
TW Metals
Hessert Chevrolet
Triple R Truck Parts
John Blewett Scrap & Waste Recycling
Pioneer Pole Buildings
F&L Doors – FLDoors.com
EZ Work Trucks
J&S Electrical
Melton Industries
Pro Tek Roofing
Johns Manville
Beacon Building Products
KOA Camp Grounds
Victory Fuel
Tipico Sportsbook
Champion Brands
DTM Kawasaki
Amwell Auto Body
Williams Napa
Prime Design Landscaping