HJ BUNTING PUTS BLUE HEN RACING IN BRIDGEPORT VICTORY LANE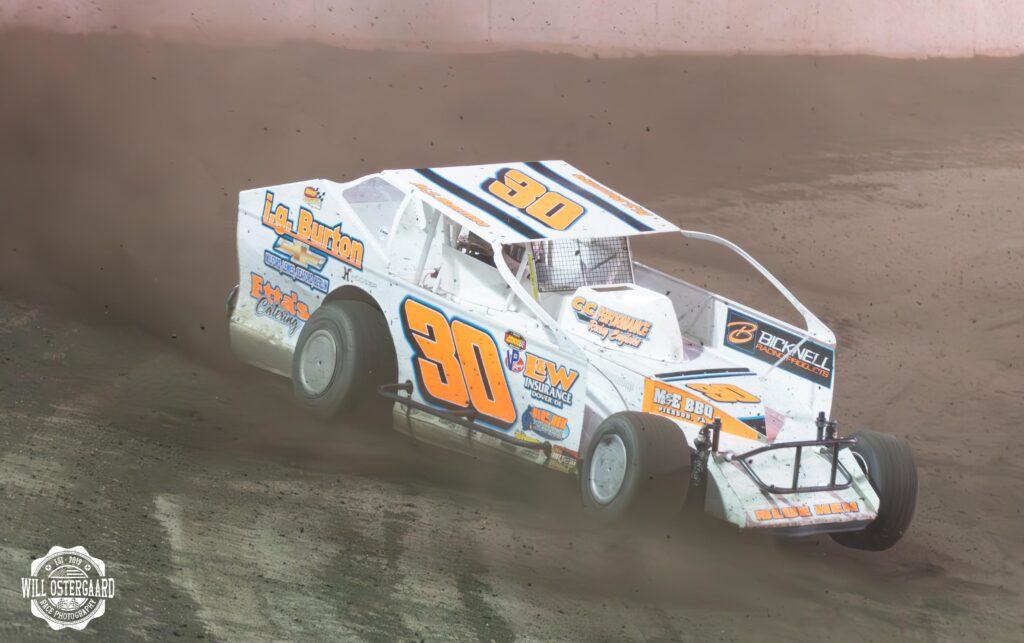 Bridgeport, NJ – Blue Hen Racing has been a part of Modified racing in the Northeast for many years.  Car owner, Eugene Mills and son, Jamie Mills have won many races together over the years with Jamie behind the wheel and then later twisting the wrenches.  On Saturday night, HJ Bunting put the Mills and Blue Hen Racing back into Bridgeport's Champion Victory Lane for the first time since the 2021 season.
James Hill earned his first ever Bridgeport win in the Precision Hydraulic & Oil 602 Sportsman feature, holding off the late race challenges of Eric Kormann in the final laps. Tom Wills, Jr. went two for two, earning his second win of the season in the Melton Industries Street Stock feature, grabbing the lead in the final corners of the race. Rich Mellor was the race winner in the North East Wingless Sprints (NEWS) while Eddie Barber III raced to the win in the first DA's Auto Body & Repair Rookie competition of the season.
The Blue Hen No. 30 team was fast right out of the trailer with Bunting clocking the fastest time during warm-ups for the Danny's Pizza Pizzazz Modifieds. In the thirty lap Modified feature, it was Stan Frankenfield Jr. who led the way for the first four laps with Bunting charging from his fifth place start to take the lead on lap five. Green flag racing from lap six until lap twenty-three allowed Bunting to pull away to a nine second lead – a lead that was erased with just eight laps to go. And who was racing in second? Jojo Watson who won the season opener and had raced his way through the field from his nineteenth-place start!
Several late race cautions kept the field tight but Bunting was able to maintain the lead on each restart. Bunting raced to the win over Watson, David Hunt, Jordan Watson and Duane Howard who raced to a top five finish after a late race tire change. Sam Martz finished sixth followed by Richie Pratt, Jr., Stan Frankenfield, Cale Ross and Carson Wright.
F&L Doors Modified heats were won by Bunting, Billy Osmun and David Hunt.
David Jenkins was the early race leader in the Precision Hydraulic & Oil 602 Sportsman. Matt Peck raced into the lead on lap six after starting in eleventh. James Hill moved into second while Bryan Brobst, Stephen Yankowski and Howie Finch battled for third.
Peck had speed but ran out of luck on lap twenty-two when a body rub caused a tire to go down on the No. 39. Hill led the way on the restart and held off a hard charging Eric Kormann and Travis Hill to earn his first Bridgeport victory.
Korman finished second followed by Travis Hill who rebounded from a trip to the pits for a tire change earlier in the event. Brobst finished fourth at the checkered with Ethan Bill racing into fifth in the final laps. Yankowski finished sixth after racing within the top five for most of the race. Pete Serra finished seventh followed by Thomas Prychka, Scott Hulmes and Shane Kassekert.
Hoffman Discount Parts heats were won by Korman, Jenkins and Travis Hill with Harold Huepful picking up the win in the consolation.
Eddie Barber III grabbed the lead on the start and led the eight lap distance to capture the first DA's Auto Body & Repair Rookie feature.
Tom Wills, Jr. gave himself a birthday present when he raced by leader Jeramy Doerr on the final lap and the last corner to win his second Melton Industries Street Stock feature. Doerr led fourteen of the fifteen lap feature but it was Wills for the win over Doerr, Mike Hughes who made his first start of the season, Lee Allen and Drew Brocklebank.
Protek Roofing heat races were won by Spider Ensinger and Jeramy Doerr.
After leading most of the race the last time the NEWS sprints visited Bridgeport, Rich Mellor made sure to seal the deal this time as he captured the win in Victory Fuel twenty lap feature event. Shea Wills had another strong outing to finish second over Mike Thompson. Brian Spencer took fourth in the final laps with Eric Jennings finishing fifth.
Shea Wills was the winner of the Victory Fuel heat race for the wingeless sprints.
Saturday night racing continues next week with the Mid Atlantic Sprint Series joining the Modifieds, 602 Sportsman, Street Stocks and Rookies.
DANNY'S PIZZA PIZZAZZ MODIFIEDS FEATURE (30 laps):
1. H. J. Bunting, 2. Joseph Watson, 3. David Hunt, 4. Jordan Watson, 5. Duane Howard, 6. Sam Martz, Sr., 7. Richie Pratt, Jr., 8. Stan Frankenfield, 9. Cale Ross, 10. Carson Wright, 11. Blaine Bracelin, 12. Sam Martz, Jr., 13. Rick Laubach, 14. Neal Williams, 15. J. R. Fulper, 16. Cole Stangle, 17. Mike Franz, 18. David Crossman, 19. Sean Metz, 20. Billy Osmun, 21. W. B. James, 22. Bruce Gell, DNS – Jim Britt, Dalyton Strohl
PRECISION OIL & HYDRAULIC 602 SPORTSMAN FEATURE (25 laps):
1. James Hill, 2. Erik Kormann, 3. Travis Hill, 4. Brian Brobst, 5. Ethan Bill, 6. Stephen Yankowski, 7. Pete Serra, 8. Thomas Prychka, 9. Scott Hulmes, 10. Shane Kassekert, 11. Howard Huepful, 12. Matt Peck, 13. Justin Newhard, 14. Dan Hulmes, 15. Ed Owens, 16. Ed Olsen, 17. Brian Rogers, 18. Erik Mattson, 19. Howie Finch, 20. Billy Chester, 21. David Hartman, 22. David Jenkins, 23. Robert Tete, 24. Matt Luzi, 25. Ethan Young, 26. Brian Papiez, DNQ – Ashley Metz, Dave Damiano, Briana Olsen
D.A. AUTO BODY & REPAIR ROOKIES (8 laps):
1. Ed Barber, III, 2. Ed Owens, 3. Jason Dipretre, DNS – Briana Olsen
NORTHEAST WINGLESS SPRNT FEATURE (20 laps):
1. Rich Mellor, 2. Shea Wills, 3. Mike Thompson, 4. Brian Spencer, 5. Eric Jennings, 6. Larry Drake, 7. Stan Ploski, III, 8. Al Cheney, 9. Eric Miller, DNS – Heidi Hedin
BRIDGEPORT MOTORSPORTS PARK STREET STOCK FEATURE (15 laps):
1. Tom Wills, Jr., 2. Jeramy Doerr, 3. Mike Hughes, 4. Lee Allen, 5. Drew Brocklebank, 6. Rich Stinson, Sr., 7. T. J. Henry, 8. Kevin Hockman, 9. Tracey Appley, 10. Terry Chaney, DNS – Spider Ensigner, Nick Sandone, III, Christopher Allen, Sr.