BRIDGEPORT 2023 CHAMPIONS CROWNED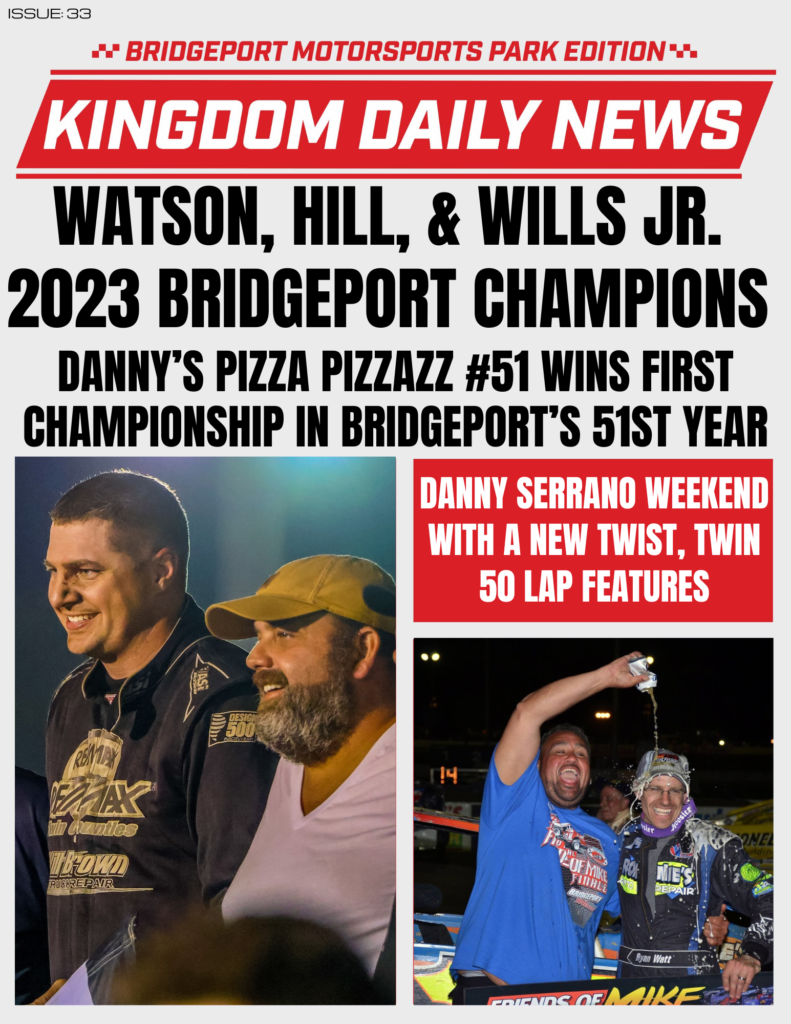 Bridgeport, NJ – Call it coincidence.
The 2023 Bridgeport Motorsports Park Modified Champion is Jordan Watson and the Danny Sommerling's No. 51 team. And it's Bridgeport's 51st season! And Danny's Pizza Pizzazz has been the division sponsor of the Modifieds this season!
While that all may just be coincidence, the Danny's Pizza Pizzazz No. 51 team put in the work, the hours, the dedication that is needed to be a championship team. "I'm proud of what we did with the team this year," car owner Danny Sommerling stated. "Jordan (Watson) has been the key in unlocking this team's potential of winning!" After seven years of trying, Sommerling was beginning to wonder if the sport had outgrown him.
For driver, Jordan Watson, a Bridgeport Championship has always been a dream. Watson has made Bridgeport history on several occasions. Ten years ago, Watson won the first Bill Hill Memorial Race – a race that Jesse and Travis Hill, family and friends, put together to honor their late father. A few seasons later, Watson won Bridgeport's 1000th race. "Winning a Bridgeport Championship has always been a childhood dream of mine," Watson explained. "I was a young kid, sitting in the grandstands, watching past champions like Doug Hoffman, Jimmy Horton and Duane Howard and always envisioned my name eventually being added to that list." Watson continued. "After a successful Crate campaign at Bridgeport, we achieved our first Big Block win on a historical night – the 1000th Big Block race. I was able to celebrate with a childhood hero, Kenny Brightbill, who won the first ever Big Block race."
At the end of the 2022 season, Watson was approached by Sommerling and crew chief, Bill Clark. They didn't know Watson and Watson didn't know them. They made Watson an offer and "none of us were confident about the trajectory it would take," Watson adds. They had a trial run at the end of the season and it was enough to give all parties hope for the future.
Watson brought some of his people to be added to Sommerling's crew and the building began. "Throughout the season, we continued to show speed and most importantly, consistency," Watson explained. "I am so proud of my whole team," Sommerling continues. "This could never have been done without any of them and the sponsors that have supported me for the past seven years." "We definitely have made racing in my shop great again." Watson agreed "I think I can speak for all of us – racing became fun again!"
"Thank you to Doug Rose and staff for continually working to improve his operation," Watson adds. "I look forward to much more success with this team who has earned the title of champion!"
Travis Hill and Robert Cogdill raced to the 2023 Precision Hydraulic & Oil 602 Sportsman championship by the slimmest of margins of second place, Ethan Bill. In recent weeks, pictures have been circulating on social media of a very young Ethan Bill flanked by Travis and Jesse Hill. Of course, they didn't know then that they would one day be racing against Bill for the title.
Both Hill and Cogdill are previous champions. It's been ten years since Cogdill celebrated the title with his son, Mike behind the wheel. "I am extremely happy that we could do this for a second time," Cogdill stated. "We worked hard all last winter and all of this year to have a good race car to be able to have a shot at the championship. I have to thank DiTeodoro Farms, Halters Farm Market and BHR Contracting – without these great sponsors, this would not be possible."
Hill listened intently to what Doug Rose had to say at last week's drivers' meeting when he warned that this could in fact be the final race – should weather interfere with the races on the next weekend. And it did. "Knowing that last week could be the last, I knew I had one thing to do and we did it. Hill repassed Bill on the final lap to score the points needed to put himself and the No. 98 on top of the points.
" I want to thank everyone that has come out to support us and Bridgeport Speedway this season," Hill added.
Tom Wills, Jr. raced to his fifth championship in the Bridgeport Motorsports Park Street Stocks. He surpassed his most feature wins during the 2023 season when he won seven times. His most wins in a season had been six in one of his previous titles.
The Wills No. 856 is a family owned and operated team. Tom Wills, Sr. is also a past champion in this division and it was Wills, Sr. who made sure that his son learned the necessary lessons to running a race car.
Wills, Jr.'s early races were run at New Egypt where he learned to drive. His father brought him to Bridgeport (on the 5/8th mile track) where he said he would "learn to race." "I didn't know anything in the beginning," Wills, Jr. explained. "I learned how to fix things that I didn't even know what they were called in the beginning." It may have not been the fast track but it was the right way to learn.
Whenever the No. 856 goes to the Champion Brands Victory Lane, you will find his mother, sisters and niece in addition to Tom Sr. and the crew. Sponsorship from Reeds Contracting, Holeshot Tin Works, Wills Girls Baking, Edwards Excavation, Tabernacle Sod Farm, Robey's Lawnmower Repair, Friendship Auto Parts, RS Customs, Medford Speed and Machine and RD Marano Race Engines.
Hard work and dedication are needed to win championships along with a good driver and crew and the parts needed to keep a car up and running. A little bit of luck goes a long way too!
We congratulate our 2023 Champions – Jordan Watson, Danny's Pizza Pizzazz Modifieds, Travis Hill – Precision Hydraulic & Oil 602 Sportsman and Tom Wills, Jr. – the Bridgeport Motorsports Park Street Stocks.
The titles have been won but there's still plenty of racing left on the 2023 calendar. The Danny Serrano Weekend is coming up on Friday, September 22nd – Sunday, September 24th.