​​PAUCH JR. AND JANNEY CLAIM FIRST BRIDGEPORT VICTORIES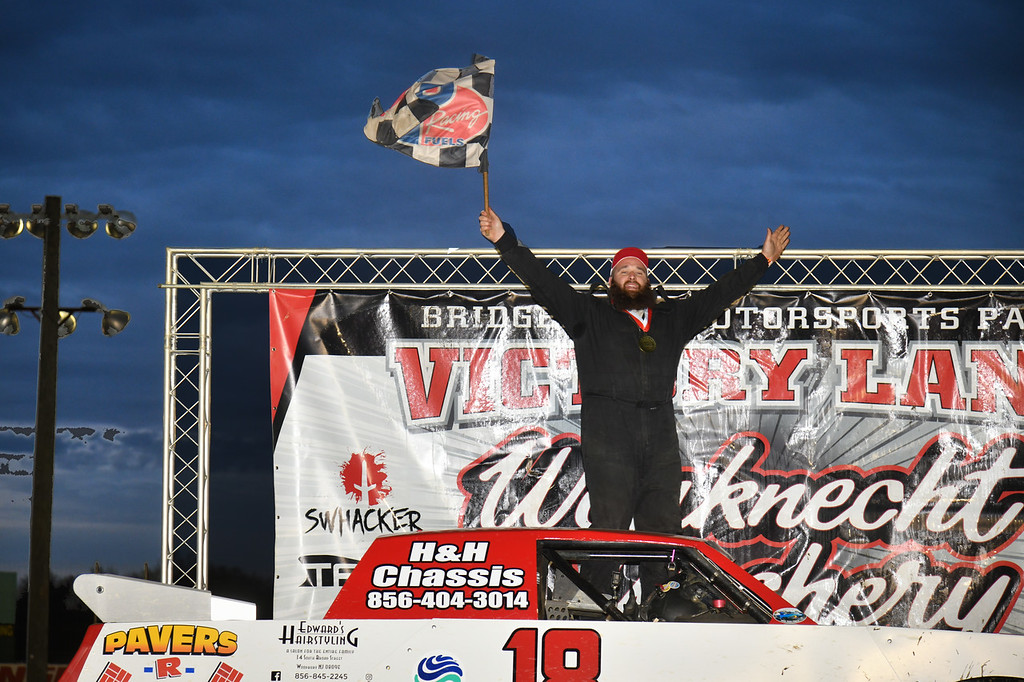 Bridgeport, NJ – ​​It was a night of firsts on the high banks of the Bridgeport Motorsports Park as Billy Pauch, Jr. claimed his career first Bridgeport victory behind the wheel of the Rick Holsten owned No. 96 in the Danny's Pizza Pizzazz Modified feature with the night of racing sponsored by Ellery's Pub & Grill. Rory Janney grabbed the lead from Rick Stief just two laps from the finish to win his first Delaware Auto Exchange Mid-Atlantic Sprint Series.
Steve Kemery claimed the win in the Precision Hydraulics & Oil 602 Sportsman feature – his first of the season. Mike Hughes raced to his third win of the year in the Bridgeport Motorsports Park Street Stocks whileThomas Prychka captured his second win in the DA's Auto Body & Repair Rookies.
Polesitter Matt Peck grabbed the lead on the initial start and led the first seven green flag laps of the thirty lap Modified main event. Davey Sammons quickly raced by Dominick Buffalino to take over second on lap two. Positions in the top five were changing every lap as Peck led Sammons, Buffalino, Ryan Krachun and Matt Stangle through lap five.
Sammons used an outside move off of turn two on lap eight to put the Pioneer Pole Building No. 79 into the lead. Buffalino, Krachun, Stangle and Neal Williams trailed the leader at the crossed flags.
Ron Roberts slowed with a right rear flat with sixteen laps scored to bring out the first caution of the race. At this juncture, Ryan Godown and Billy Pauch, Jr. were battling for positions just within the top ten.
Sammons led the way as Krachun rook over second after a back-and-forth battle with Buffalino for the position. With ten laps to go, Stangle and Ryan Watt completed the top five with Pauch, Jr. running in sixth.
One lap later, a jingle in turn three had Godown heading to the pits to change a right rear flat. On the restart, the field got bottled up that resulted in a multi-car incident in turn four that required some time to clear. All cars were able to continue with the exception of Clay Butler and Joseph Watson whose cars were locked together.
Buffalino reclaimed second on the restart as Stangle, Pauch, Jr. and Krachun completed the top five. Then Stangle battled for second before he was challenged by Pauch, Jr. Pauch took third from Stangle and then drove by Buffalino for second.
The field rounded turn four to take the checkered but the caution waved again as Richie Pratt, Jr. and Sam Martz were sitting between turns one and two.
It was a green and checkered finish with Sammons leading Pauch, Krachun, Buffalino and Stangle to the stripe. However, Sammons No. 79 did not pass the post-race tech inspection, moving everyone one up one spot and Pauch taking his first Bridgeport Motorsports Park win. Watt finished fifth followed by Tommy Beamer, Alex Yankowski in the Rio R10, Godown, Sammy Martz, Jr., and Neal Williams.
The F&L Doors Modified heats were won by Stangle, Watt and Pauch by inches over Buffalino. Joseph Watson won the consolation with a new Blue Hen No. 30.
Rick Stief led the Mid-Atlantic Sprint Series feature sponsored by Bob Hilbert Sportswear through lap twenty-three but Rory Janney had closed in on the leader and was positioned to challenge as the lead cars navigated their way through lapped traffic. Janney grabbed the lead on lap twenty-four as CJ Faison was quickly closing in on the leader. Faison completed the pass by Stief and had Janney in his cross-hairs as the raced through turns three and four but time and racing room were in short supply as Janney raced to the checkered flag.
Faison finished second followed by Stief, Larry McVay and current MASS point leader, Buddy Schweibinz in fifth. Tim Iulg, Bobby DeVault, John Brennfleck, Jeff Paulson and Josh Bricker rounded out the top ten.
Kevin Nagy was sidelined after making contact with the homestretch wall on lap seven. On lap eight the cars of DJ Tanner, Samantha Lieberman and Darren Cox made contact on the homestretch with Tanner rolling violently down the track. All drivers escaped injury but Tanner and Lieberman's cars had significant damage.
Atmostemp Heating & Cooling Sprint Car heats were won by Larry McVay, Josh Bricker and Kevin Nagy.
Steve Kemery, who has been racing on a limited schedule this season, picked up his first win of 2022 in the Precision Hydraulics & Oil Sportsman feature after taking the lead from Travis Hill on a lap nineteen restart. Wayne Weaver led laps one thorugh six when 2021 Rookie Champion, Ethan Bill raced into the lead. Bill drove to a sizeable lead and led through lap thirteen but as he made his entry into turn one, the cars of Brian Rogers and Thomas Prychka tangled right in front of the leader. Bill took evasive action but was unable to avoid contact, ending his bid for his first Sportsman win.
Hill raced into the lead on the restart as Ryan Godown, Jr., Kemery and Weaver raced three wide. Kemery moved into third and then took the lead on a lap nineteen restart.
Kemery took the win over Hill, Weaver, Tom Sherby and Greg Humlhanz. Godown, Jr. finished sixth followed by Howie Finch, Sean Metz, Brian Papiez and Tom Moore, Jr.
The Hoffman Discount Parts heats were won Ethan Bill, Greg Humlhanz, Tom Moore, Jr. and Wayne Weaver with Swift winning the consolation.
Mike Hughes picked up win number three in the Triple R Truck Parks Street Stock feature. Hughes took the early lead over Jeramy Doerr and 2021 Champion, Tom Wills, Jr. TJ Henry raced into third on lap four and then moved into second four laps later. Hughes had extended his lead to nearly a striaght-away so Henry spent the remaining laps closing the gap on the leader.
Hughes took the win over Henry, Doerr, Wills, Jr. and Lee Allen.
Jeramy Doerr was the winner of the Hessert Chevrolet heat race.
Thomas Prychka picked up his second win in the DA's Auto Body and Repair Rookie feature, going two for two in wins. Vince Malcom finished a close second followed by Mike Baldwin, Haley Cook and John Larsen.
DANNY'S PIZZA PIZZAZZ MODIFIED FEATURE (30 LAPS): 1. Billy Pauch, Jr.,2. Ryan Krachun, 3. Dominick Buffalino, 4. Matt Stangle, 5. Ryan Watt, 6. Tommy Beamer, 7. Alex Yankowski, 8. Ryan Godown, 9. Sam Martz, Jr., 10. Neal Williams, 11. Jordan Watson, 12. Mike Franz, 13. Roger Manning, 14. Richie Pratt, Jr. 15. Ron Roberts, 16. Sam Martz, Sr. 17., Matt Peck, 18. Jim Gallagher, Jr., 19. Billy Osmun, III, 20. Joseph Watson, 21. Clay Butler, 22. Davey Sammons
DNS: Jack Swain, Carson Wright
PRECISION HYDRAULIC & OIL 602 SPORTSMAN (25 LAPS): 1. Steve Kemry, 2. Travis Hill, 3. Wayne Weaver, 4. Tom Sherby, 5. Greg Humlhanz, 6. Ryan Godown, Jr. 7. Howie Finch, 8. Sean Metz, 9. Brian Papiez, 10. Tom Moore, Jr. 11. Matt Ellery, 12. Eric Kormann, 13. Stephen Yankowski, 14. Brandon Watkins, 15. Bryan Brobst, 16. Bobby Watkins, 17. Jim Dallett, 18. Thomas Prychka, 19. David Jenkins, 20. Billy Chester, 21. Jonathan Swift, 22. Pete Serra, 23. Mike Baldwin, 24. Ethan Bill, 25. Brian Rogers, 26. Brandon Shipley
TRIPLE R TRUCK PARTS STREET STOCK FEATURE (15 LAPS): 1. Mike Hughes, 2. TJ Henry, 3. Jeramy Doerr, 4. Tom Wills, Jr. 5. Lee Allen, 6. Jeff Dirkes, 7. Drew Brocklebank, 8. Ken Moren,
DNS: Nick Sandone III
DELAWARE AUTO EXCHANGE MID-ATLANTIC SPRINT SERIES (25 LAPS): 1. Rory Janney, 2. CJ Faison, 3. Rick Stief, 4. Larry McVay, 5. Buddy Schweibinz, 6. Tim Iult, 7. Bobby DeVault, 8. John Brennfleck, 9. Jeff Paulson, 10. Josh Bricker, 11. Joe Kay, 12. Keith Anderson, 13. Phil Meisner, 14. Darren Cox, 15. Kristina Pratt, 16. Dale Eggert, 17. Justin Nowlen, 18. Andy Mahan, 19. Eddy Wagner, 20. Samantha Lieberman, 21. Cory Hunsberger, 22. DJ Tanner, 23. Kevin Nagy, 24. Kenny Laureno
DNS: Dan Leaper
DA's AUTO BODY & REPAIR ROOKIES (7 LAPS): 1. Tom Prychka, 2. Vince Malcolm, 3. Mike Baldwin, 4. Haley Cook, 5. John Larsen, 6. Dylan Montieth, 7. Dan Hulmes, 8. Lew Moore, 9. Ashley Therien, 10. Danielle Cook