DANNY SERRANO 100 & ALL AMERICAN 40 SET FOR SUNDAY NOVEMBER 6th.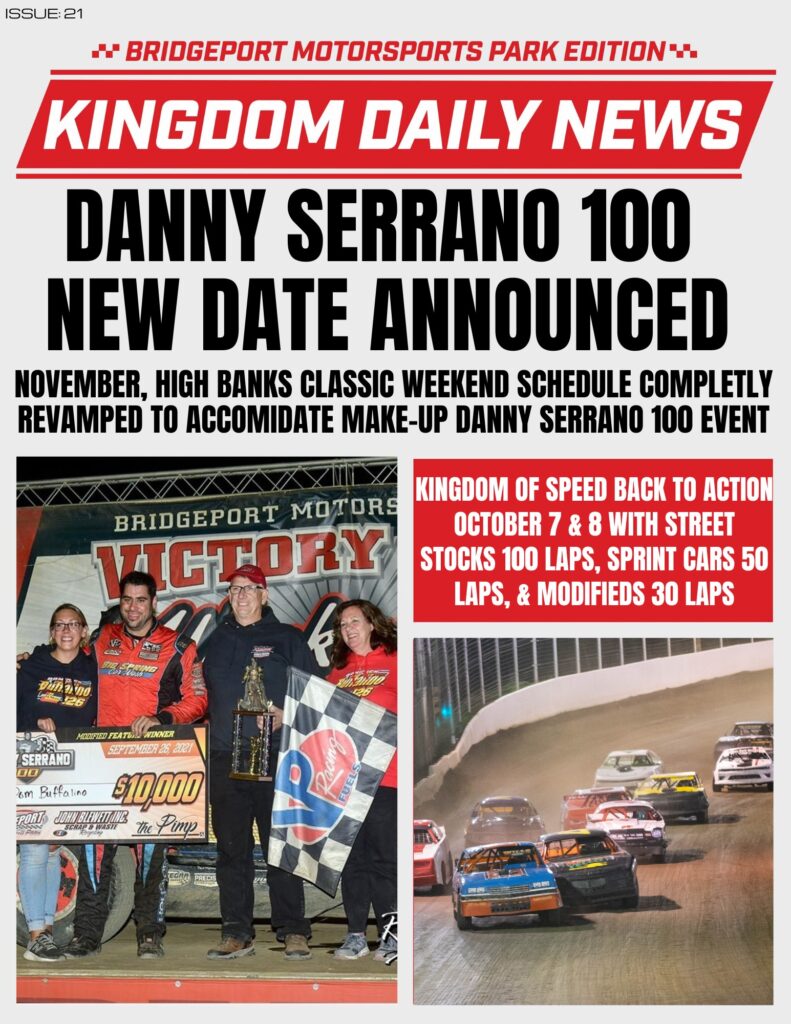 SWEDESBORO, NJ – With minimal open dates available on both the Bridgeport Schedule and North East Modified's Schedule, Bridgeport felt it would be best to stick to a date they already have in place. "We didn't want to schedule this date and conflict with another scheduled Modified race. We originally considered Saturday November 5th so we had the opportunity for a Sunday rain date, but we have 3 competitors planning on going to Charlotte. To be fair to them we have decided to revamp the November weekend in it's entirety and run the Danny Serrano 100 and the All American 40 on Sunday November 6th" stated promoter Doug Rose.
The revamped November High Banks Classic will take place over two days, Saturday November 5 and Sunday November 6. "When moving Danny's race to November 6th and looking what was originally scheduled the two dates had many similarities. So to make it easy we are simply going to replace the original schedule of events for the 6th with the scheduled events from September 25th", Rose summarized.
With the new purse structures in place for Sunday's events Bridgeport organizers felt it would be best to run the weekend as a Saturday and Sunday only event. Rose cited, "I have spoken with the organizers of the USAC All Pro SpeedSTR's and the USAC EC Sprints on our decision to remove the Friday portion off the weekend. They understood the logistics and costs for Friday's activities, it makes sense to remove at this time".
With the new schedule in place, the High Banks Weekend will look like this for November 5 & 6……
Friday November 4 – NO RACING
Saturday November 5
* Sprint Cars – United Racing Club
* 602 Sportsman – TOPLESS (remove roof, front supports, & window frame. The triangle aluminum piece that that holds window frame can remain).
* Street Stocks
* Vintage Stock Cars
* Modified Open Practice
Sunday November 6
* Modifieds – Last Chance Race
* Modifieds – 1-on-1 Match Races presented by Amwell Auto Body
* Modifieds – Danny Serrano 100 presented by Izzi Trucking & Rigging Inc. & John Blewett, Inc.
* Sportsman – full program – All American 40 – $4000 to win presented by Dejana Truck & Utility Equipment, LLC., Ellery's Grill & Pub & Ice Less, LLC
* 4 Cylinder Stock Cars
Bridgeport Speedway returns Friday and Saturday October 7 & 8 for the Street Stock Nationals. This incredible weekend of racing includes a 100 lap Street Stock event paying $10,000 to the winner along with for the FIRST TIME EVER a 50 lap Sprint Car race, along with Modified's going 30 laps, plus 4 Cylinder Stock Cars and Vintage Modifieds. Going to be another great weekend at this Kingdom of Speed!