ROSS, PAPIEZ, HENRY & ALLEN OPEN JULY WITH BRIDGEPORT VICTORIES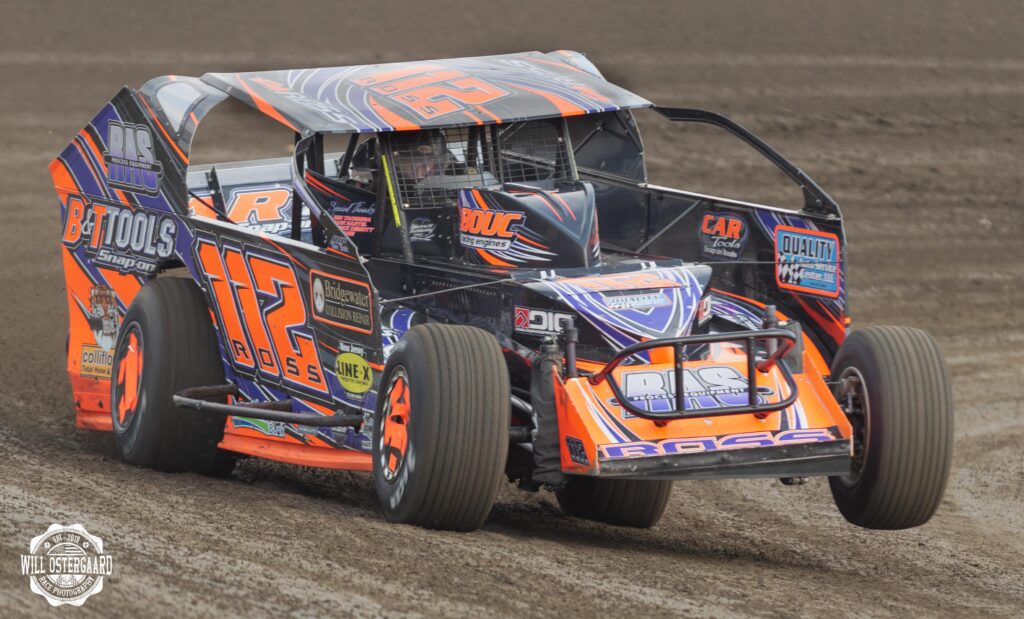 Bridgeport, NJ – What better way is there to open a busy new month of competition than with feature wins at the Bridgeport Motorsports Park?
And that's exactly what Cale Ross, Brian Papiez, TJ Henry and Lee Allen did on Saturday night.
It was a great prelude to this weekend's Doug Hoffman Memorial Short Track Super Series event on Sunday for Ross who earned his second win of the 2023 season. For Papiez, it was a third win and back-to-back victory for the driver of the Adams Motorsports No. 37. It was a big win for TJ Henry-not only his first of the season but a $1000 victory in the Street Stock Spectacular twenty-five lap feature event. Lee Allen earned his first 4 Cylinder win as the top three battled all the way to the checkered to determine the race winner. All of this action was sponsored by Roveda Speed & Custom!
It was also DA's Auto Body & Repair Rookie graduation. Aaron Conover earned his first Rookie victory while Eddie Barber III won the Rookie Championship.
Cale Ross raced to his second win of the 2023 season and became the first repeat winner in the Danny's Pizza Pizzazz Modifieds. It was the first race for Ross' new No.112 – a car that he had made a few practice laps with two weeks earlier. "Doug pretty much has the track back to where it was last year," Ross explained. "We went back to basics – back to our set-up from last year."
David Hunt led the first lap of the Modified feature. Ross quickly raced into second and took the lead from Hunt on lap two as the field headed down the backstretch.
After setting fast time in Modified warm-ups, Sammy Martz, Jr. took over third but was soon battling with Neal Williams for the position. Martz slipped back several positions on a restart but charged into second on lap ten. That battle was not over as the two drivers continued to race each other throughout the thirty lap duration.
Ross put some distance between himself and his challengers during green flag racing but multiple yellow flags regrouped the field.
Ross led the way over Martz, Williams, Hunt and Duane Howard at halfway.
As the field raced in traffic, Martz was able to close the gap on Ross with about ten laps to go. At one point, Ross, Martz and Williams raced with only about two car lengths separating each of the positions.
Coming out of turn four to take the two to go sign, Martz suddenly slowed, allowing Williams to race into second. By the time he passed the flag stand, Martz was back on the gas and racing in third after the No. 24 jumped out of gear. Martz was able to hold the car in gear to get to the checkered flag.
It was Ross for the win over Williams, Martz, Jr., Duane Howard and Hunt who had his best finish of the season. Stan Frankenfield finished sixth with Jordan Watson, Joseph Watson, Sean Metz and JR Fulper completing the top ten at the finish.
F&L Doors heats were won by Frankenfield, Martz, Jr. and Mike Franz.
After weeks of bad luck, Brian Papiez has his team back on track as they lead the Precision Hydraulic & Oil 602 Sportsman with three wins. Papiez is the only driver to have repeat victories in this division.
Matt Luzi and Brandon Shipley raced side-by-side to complete the first lap before Luzi pulled ahead. Luzi led the first seven laps before Stephen Yankowski raced into the lead. Papiez raced into second and then raced Yankowski for the lead. Papiez and Yankowski raced door to door to complete lap ten. Papiez had the lead on lap eleven followed by Yankowski, Peck, Luzi and Steve Kemery.
The top five remained unchanged until five to go. Kemery took third in the final laps and Brandon Watkins broke into the top five.
Papiez took the win over Yankowski, Kemery, Peck and Watkins. Jax Yohn finished sixth in his first Bridgeport start followed by Rookie, Aaron Conover, Pete Serra, Tom Princiotta and Thomas Prychka. Luzi's second top ten finish came to an end with a flat tire on the final lap.
Hoffman Discount Parts heat races were won by Brandon Shipley, Ethan Bill and Travis Hill with Tom Sherby picking up the win in the consolation.
Aaron Conover became the third different winner in the DA's Auto Body & Repair Rookie division as he raced to the win in the final race of the Rookie season. Eddie Barber III finished second and collected the Rookie Championship for 2023. Ed Owens finished third followed by Brianna Olsen and Jason DiPretore.
TJ Henry drove to his first win of the season in the Roveda Speed & Custom Street Stock Spectacular and the $1,000 winner's share of the purse.
Nick Sandone led the first lap of the twenty-five lap main event before Jeramy Doerr took the lead on lap two. Doerr led through lap six as Henry arrived on the scene. Henry took the lead on a lap seven restart and Mike Hughes raced by Doerr to take over second.
After running in the top five for most of the race, Doerr and Lee Allen tangled on the final lap. Allen rolled the No. 98B over, ending his race one lap early. No one was injured.
Henry led the way to the checkered on the one lap shoot-out followed by Mike Hughes. Tom Wills, Jr. raced into third on the final lap followed by Brocklebank and Sandone.
Andrew Joslin sponsored the Street Stock heats that were won by Tom Wills, Jr. and TJ Henry.
Lee Allen was the winner of the Tipico Sportsbook 4 Cylinder feature as he beat Tim Jones and Dan Stein, Jr. to the finish line in a very tight race. Eric Degler and John Parker completed the top five at the checkered.
Eric Degler was the winner of the Victory Fuel 4 cylinder heat race.
Several drivers competed on Saturday night in preparation for this weekend's Short Track Super Series event coming up on Sunday. The Ron Fasion Memorial will go to the post on Saturday for the Delaware Auto Exchange Mid Atlantic Sprint Series who will be joined by the Street Stocks and North East Wingless Sprints. Saturday's program will also include practice sessions for both Modifieds and 602 Sportsman in preparation for Sunday's events.
Baily Tolson traveled the greatest distance to run his Street Stock for the first time this season since he has been spending his time racing his crate car. All of the laps run on Saturday night gave Tolson some insight for the Street Stocks Nationals coming this Fall.
DANNY'S PIZZA PIZZAZZ MODIFIED FEATURE (30 LAPS):
1. Cale Ross, 2. Neal Williams, 3. Sammy Martz, Jr., 4. Duane Howard. 5. David Hunt, 6. Stan Frankenfield, Jr., 7. Jordan Watson, 8. Joseph Watson, 9. Sean Metz, 10. J.R. Fulper, 11. H. J. Bunting, 12. Blaine Bracelin, 13. Mike Franz, 14. Jack Swain, 15. Tommy Scheetz, 16. Rick Laubach, 17. Brett Kelly, 18. David Crossman, 19. Frank Cozze, 20. Billy Osmun, III, 21. Ron Roberts, DNS – Howard O'Neal, Jim Gallagher, Sam Martz, Sr.
PRECISION HYDRAULIC & OIL 602 SPORTSMAN FEATURE (25 LAPS):
1. Brian Papiez, 2. Stephen Yankowski, 3. Steve Kemery, 4. Matt Peck, 5. Brandon Watkins, 6. Jax Yohn, 7. Aaron Conover, 8. Pete Serra, 9. Tom Princiotta, 10. Thomas Prychka, 11. Billy Chester, 12. Tom Sherby, 13. Ethan Young, 14. Dan Hulmes, 15. Brandon Shipley, 16. David Jenkins, 17. Shane Kassekert, 18. Brian Rogers, 19. David Hartman, 20. Bryan Olsen, 21. Matt Luzi, 22. Ethan Bill, 23. Scott Hulmes, 24. Justin Newhard, 25. Travis Hill, 26. Howie Finch, 27. Howard Huepful, DNQ – Robert Tete, Briana Olsen, Ed Owens
D.A.'S AUTO BODY & REPAIR FEATURE (7 LAPS)
1. Aaron Conover, 2. Ed Barber, III, 3. Ed Owens, 4. Briana Olsen, 5. Jason DiPretore
Champion – Ed Barber, III
ROVEDA SPEED & CUSTOM STREET STOCKS (25 LAPS)
1. T.J. Henry, 2. Mike Hughes, 3. Tom Wills, Jr., 4. Drew Brocklebank, 5. Nick Sandone, III, 6. Brian Ludwig, 7. C.J. Helstad, Jr., 8. Terry Chaney, 9. Jeramy Doerr, 10. Lee Allen, 11. Spider Ensinger, 12. Spider Ensinger, Jr., 13. Bailey Tolson, 14. Spider Ensinger, III, 15. Kevin Heckman, 16. Chris Helstad, Sr., 17. Mike Derr
TIPICO SPORTSBOOK FOUR CYLINDERS FEATURE (15 LAPS)
1. Lee Allen, 2. Tim Jones, 3. Dan Stein, Jr., 4. Eric Degler, 5. John Parker, 6. Joe Garey, Jr., 7. Ed Ford, DNS – Joe Garey, Jr., Mark Stein, Sr.