PAPIEZ FIRST TO REPEAT IN BRIDGEPORT SPORTSMAN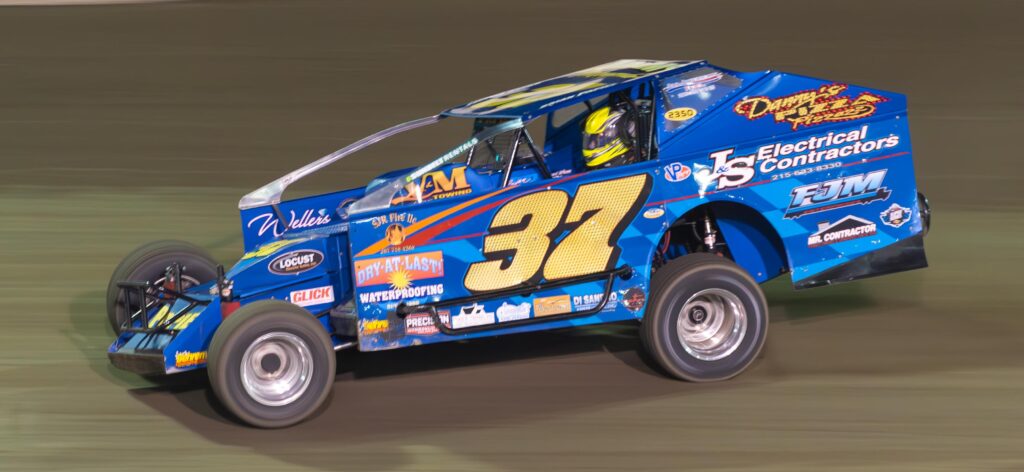 Bridgeport, NJ – It was an ecstatic and relieved Brian Papiez who pulled into the Champion Victory Lane for his second win of the season in the Precision Hydraulic & Oil 602 Sportsman.  It was Professional Design Services night at the speedway and Papiez was able to shed weeks of bad luck and crashes and become the first driver to repeat in the 602 Sportsman.
Kevin Nagy was able to use a late race restart to take the lead and then the win in the Delaware Auto Exchange Mid-Atlantic Sprint Series (MASS) feature event. Nagy became the third different winner in the three MASS events at Bridgeport so far this season.
Mike Hughes won his second win of the season in the Tipico Sportsbook Street Stock feature as he picked up the back-to-back victory. Eddie Barber III raced to his fifth win of the season in the DA's Auto Body & Repair Rookie feature with just one race remaining in the Rookie season. Tim Jones raced to the win in the Tipico Sportsbook 4 Cylinder feature to become the third different driver to win in this division.
Papiez was euphoric in Victory Lane – much like you might expect from a big win or a first time winner. "I needed this one bad," Papiez exclaimed after issues sidelined Papiez from the Iceless Cash Dash. The No. 37 team discovered water in their fuel and spent the time before the feature to drain the fuel cell. Papiez thanked his crew and car owner. "These guys just don't give up on me!"
Papiez took the win but several other drivers achieved great results in the twenty-five lap feature event. Ethan Bill raced from his twelfth place starting position to challenge Papiez in the final laps. 2022 Rookie Champion, Thomas Prychka, jumped behind the wheel of the G&T Erectors No. 57z and collected a third place finish – his best effort so far this season. Pete Serra led the feature for the first thirteen laps and finished fourth for his best effort to date. Matt Luzi raced in the top five throughout the twenty-five lap distance, finishing fifth for his best finish of 2023. Justin Newhard followed in sixth for his best finish followed by Travis Hill, Billy Chester, Jim Dallett and David Jenkins to complete the top ten at the checkered.
Hoffman Discount Parts heat races were won by Matt Luzi, Ethan Bill and Brian Rogers. Ethan Bill was also the winner of the Iceless sponsored Cash Dash for the 602 Sportsman.
Eddie Barber III dedicated his fifth Rookie win of the season to Amy Barber who passed away during the 2022 season. Amy was not only important to her family and extended family but to Bridgeport as well as she filled many positions at the track on both Friday and Saturday night events.
Jason Dipretore finished second followed by Ed Owens.
Joe Kay led every lap of the Danny's Pizza Pizzazz sponsored MASS sprint cars on this Saturday night. There was only one caution in the race which came just four laps from the finish after Eddie Wagner and Rick Stief were collected in an incident in turns one and two. Kay led lap twenty-two but Nagy took the lead after the two drivers traded positions several times. Defending MASS Champion, Budd Schweibinz made it a three car battle for the lead in the final laps, taking over second with just one lap to go.
It was Nagy for the win over Schweibinz, Kay, last week's winner, Tim Iulg and second generation driver, Kenny Laureno who collected his first top five in MASS competition. Larry McVay finished sixth followed by Dave Brown, Phil Meisner, Cory Cornell and Cory Hunsberger at the checkered.
The F&L Doors sprint heat races were won by Joe Kay and Kevin Nagy.
Mike Hughes raced to back-to-back wins in the Tipico Sportsbook Street Stock feature. For the second time in seven days, Hughes raced to the win over four time feature winner, Tom Wills, Jr. After a hard fought battle, Jeramy Doerr finished third over Lee Allen and TJ Henry.
Lee Allen was the winner of the DTM Kawasaki Street Stock qualifier.
Tim Jones was the winner of the Tipico Sportsbook Four Cylinder feature as Dan Stein, Jr., Lee Allen and Ed Ford battled to determine the runner-up spot. Jones led Stein, Jr, Allen, Ford and Dan Stein, Sr. to the checkered flag.
The Protek Roofing Four Cylinder heat race was won by Dan Stein, Jr.
Racing returns to the High Banks on Saturday night with Modifieds, 602 Sportsman, Street Stocks, the North East Wingless Sprints and it's graduation night for the DA's Auto Body & Repair Rookies!
PRECISION HYDRAULIC & OIL 602 SPORTSMAN FEATURE (25 LAPS):
1. Brian Papiez, 2. Ethan Bill, 3. Thomas Prychka, 4. Pete Serra, 5. Matt Luzi, 6. Justin Newhard, 7. Travis Hill, 8. Billy Chester, 9. Jim Dallett, 10. David Jenkins, 11. Brian Rogers, 12. Ethan Young, 13. Dan Hulmes, 14. Shane Kassekert, 15. Scott Hulmes, 16. Stephen Yankowski, 17. Ashley Metz, 18. Robert Tete, 19. Ed Owens, 20. Bryan Olsen, 21. Matt Peck, DNS – Brandon Shipley, Howie Finch
MID-ATLANTIC SPRINT SERIES FEATURE (25 LAPS) SPONSORED BY DANNY'S PIZZA PIZZAZZ
1. Kevin Nagy, 2. Buddy Schweibinz, 3. Joe Kay, 4. Tim Iulg, 5. Kenny Laureno, 6. Larry McVay, 7. Dave Brown, 8. Phil Meisner, 9. Cory Cornell, 10. Cory Hunsberger, 11. D.J. Tanner, Jr., 12. Logan Diehl, 13. Jeff Paulson, 14. Shelby Kelly, 15. Dale Eggert, 16. Keith Anderson, 17. Eddie Wagner, 18. Rick Stief, 19. Darren Cox, 20. David Luther
D.A.'S AUTO BODY & REPAIR FEATURE (7 LAPS)
1. Eddie Barber, III, 2. Jason DiPretore, 3. Ed Owens
TIPICO SPORTSBOOK STREET STOCKS (15 LAPS)
1. Mike Hughes, 2. Tom Wills, Jr., 3. Jeramy Doerr, 4. Lee Allen, 5. T.J. Henry, 6. Christopher Allen, Sr., 7. Terry Chaney, 8. Nick Sandone, III
TIPICO SPORTSBOOK FOUR CYLINDERS FEATURE (20 LAPS)
1. Tim Jones, 2. Dan Stein, Jr., 3. Lee Allen, 4. Ed Ford, 5. Dan Stein, Sr., 6. Eric Degler, 7. Joe Garey, Jr., 8. John Parker, DNS – Joe Garey, Sr.