HOWARD RACES TO $5,000 RUMBLE VICTORY AT BRIDGEPORT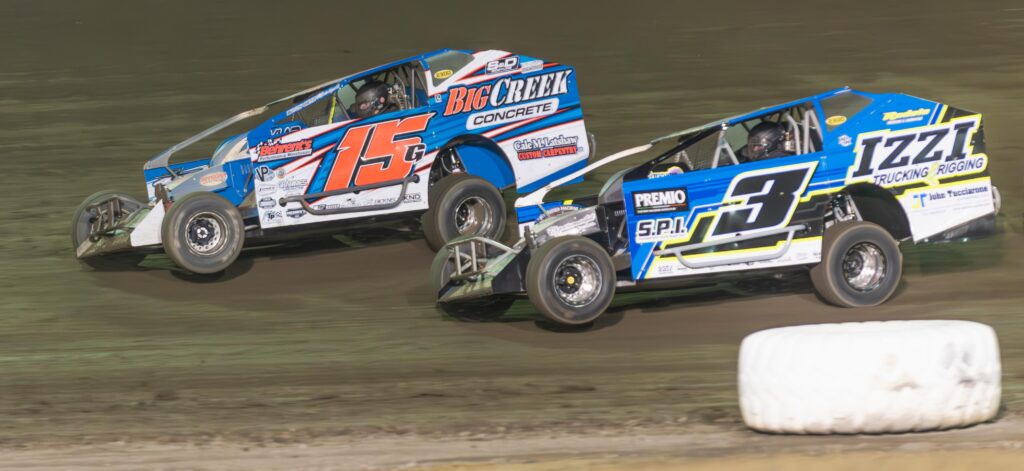 Bridgeport, NJ – Duane Howard raced to victory in the Butch Getz owned No. 15G in the first Rumble on the River event of the season on the High Banks of the Bridgeport Motorsports Park in the Danny's Pizza Pizzazz Modifieds.  Bryan Brobst picked up his first win of the season in the Precision Hydraulic & Oil 602 Sportsman while Mike Hughes raced to his first win of the season in the Tipico Sportsbook Street Stocks.  Jennings was the race winner in the North East Wingless Sprints (NEWS)feature while Chris Allen earned his first win in the DA's Auto Body & Repair Rookie in his first ever trip to the Bridgeport Speedplant.  Five features and five first time winners in the 2023 season on Triple R Truck Parts night at the Bridgeport Motorsports Park.
Howard is no stranger to success at the Bridgeport Speedway but his wins and track titles came on the 5/8th mile track where Howard ranks in the top five of career feature wins and four track championships. Saturday night's win was his first on the 4/10th mile surface. "It's great that Doug (Rose) put up this extra purse for his Saturday night racers," Howard stated following his win. Rose came up with the Rumble on the River series for Bridgeport for the 2022 season. He wanted a way to reward the drives who supported his Saturday night races by offering several higher paying races throughout the season. Saturday night's event was the first of three for the 2023 season.
"That was a race," Howard exclaimed and how right he was. Five different drivers led during the forty lap feature event more lead changes than that. Stan Frankenfield led the first five laps before Mike Franz took over on a lap six restart as he raced three-wide with Frankenfield and WB James to take the lead. After battling with Franz for several laps, James took the lead on lap ten and as Howard and Jordan Watson battled for second behind the leader. Howard raced in second when James slowed on lap fifteen, bringing out the caution.
On the lap fifteen restart, Jordan Watson raced to the outside of Howard and came to the start/finish line with the lead. Howard then used a lap twenty-four restart to power by Watson on the outside to take the lead for the final time.
"This is the kind of race track we like!", Howard exclaimed. "My crew thought I was crazy after the heat race when I told them that you could really run the bottom tonight." Howard proved his point by making his way to the front why running the bottom of the track even though his winning pass came by way of the outside line.
Howard took the win over Jordan Watson and a hard-charging Ryan Krachun who raced his way to third place finisherafter starting 22nd on the starting grid. Davey Sammons raced in a fourth place finish over Jojo Watson. Sammy Martz, Jr. finished sixth after running among the top five for most of the race. Rick Laubach followed in seventh with HJ Bunting, Neal Williams and JR Fulper completing the top ten.
F&L Doors Modified heats were won by Stan Frankenfield, Sammy Martz, Jr. and Billy Osmun.
Bryan Brobst grabbed the lead on the start and led all twenty-five laps of the Precision Hydraulic & Oil 602 Sportsman feature for his first win of the season. Ethan Bill chased Brobst to the finish after trying several times to take the lead. Brian Papiez finished third followed by Jim Dallett and Thomas Prychka. Travis Hill, David Jenkins, Matt Peck, Brandon Shipley and Scott Hulmes completed the top ten at the checkered. Sportsman action was slowed by several caution flags but Brobst prevailed.
Hoffman Discount Parts heat races were won by Matt Luzi, Brobst and David Jenkins.
Christopher Allen raced in the 24 Hours of Daytona in January and decided he'd like to try his hand at dirt track racing. Allen raced in his first DA's Auto Body & Repair Rookie feature and won, driving the No. 34 of Scott Hulmes. Allen inherited the lead when three time Rookie feature winner, Eddie Barber III ran into mechanical issues and pulled off the track. Aaron Conover finished second with Dave McElroy finishing third.
Mike Hughes raced to his first win of the season in the Melton Industries Street Stock feature, becoming the first driver to win over Tom Wills, Jr. Nick Sandone led the first lap before Hughes charged to the front on lap two. Wills finished second followed by Drew Brocklebank, Jeramy Doerr and Gary Klimeczak in the Stinson No. 27.
The Protek Roofing heat race was won by Mike Hughes.
Eric Jennings became the fourth different winner in the Tipico Sportsbook NEWS sprints in their fourth Bridgeport appearance of the season, finishing ahead of the three prior winners – Brian Spencer, Rich Mellor and Brendan Hires. Spencer finished second followed by Rich Mellor and Brendan Hires with Shea Wills finishing fifth in the twenty lap feature.
Brian Spencer and Eric Jennings were the winners of the Victory Fuel heat races.
DANNY'S PIZZA PIZZAZZ MODIFIEDS FEATURE (40 laps):
1. Duane Howard, 2. Jordan Watson, 3. Ryan Krachun, 4. Davey Sammons, 5. Joseph Watson, 6. Sammy Martz, Jr., 7. Rick Laubach, 8. H.J. Bunting, 9. Neal Williams, 10. J. R. Fulper, 11. Mike Franz, 12. Stan Frankenfield, Jr., 13. David Crossman, 14. Jack Swain, 15. Tommy Scheetz. 16. Blaine Bracelin, 17. Sam Martz, Sr., 18. Cale Ross, 19. W. B. James, 20. David Hunt, 21. Brett Kelly, 22. Billy Osmun, III
PRECISION OIL & HYDRAULIC 602 SPORTSMAN FEATURE (25 laps):
1. Bryan Brobst, 2. Ethan Bill, 3. Brian Papiez, 4. Jim Dallett, 5. Thomas Prychka, 6. Travis Hill, 7. David Jenkins, 8. Matt Peck, 9. Brandon Shipley, 10. Scott Hulmes. 11 Brandon Watkins, 12. Matt Luzi, 13. Justin Newhard, 14. Aaron Conover, 15. Robert Tete, 16. Pete Serra, 17. Stephen Yankowski, 18. Howie Finch, 19. Billy Chester, 20. Dave McElroy, 21. Brian Rogers, 22. Shane Kassekert, DNS – Bryan Olsen, Dan Hulmes
D.A. AUTO BODY & REPAIR ROOKIES (7 laps):
1. Christopher Allen, 2. Aaron Conover, 3. Dave McElroy, 4. Jason DiPretore, 5. Ed Barber, III
TIPICO SPORTSBOOK NORTHEAST WINGLESS SPRINT FEATURE (15 laps):
1. Eric Jennings, 2. Rich Mellor, 3. Brian Spencer, 4. Brendan Hires, 5. Shea Wills, 6. Stan Ploski, III, 7. Heidi Hedin, 8. Al Cheney, 9. Dan Malley, 10. Eric Miller, 11. Zach Brown, 12. Joe Byer, DNS – Larry Drake
MELTON INDUSTRIES STREET STOCK FEATURE (15 laps):
1. Mike Hughes, 2. Tom Wills, Jr., 3. Drew Brocklebank, 4. Jeramy Doerr, 5. Gary Klimeczak, 6. Kyle Saylor, 7. Nick Sandone, III, 8. Kevin Heckman, 9. Terry Chaney, 10. Mike Derr
Thank you to everyone that makes the Kingdom of Speed Possible…..
VP Fuels
Liberty Kenworth
Church's Auto Parts
Premio Sausage
Precision Hydraulic & Oil
Millville Glass & Door
Design For Vision
Rodota Trucking & Excavating
Scrappy's Auto Service
Hyper Racing
Izzi Trucking & Rigging
Danny's Pizza Pizzazz
Vahlco Wheels
Ellery's Pub & Grill
Ice Less llc.
Hoffman Discount Parts
JPA Masonry
Weaknecht Archery
Spirit Auto Center
Foley Caterpillar
Hisko Lowboy
Lineman Racing
Cenco Oil
Bob Hilbert Sportswear
Cassidy Painting
TW Metals
Hessert Chevrolet
Triple R Truck Parts
John Blewett Scrap & Waste Recycling
Pioneer Pole Buildings
F&L Doors – FLDoors.com
EZ Work Trucks
J&S Electrical
Melton Industries
Pro Tek Roofing
Johns Manville
Beacon Building Products
KOA Camp Grounds
@Victory Fuel
@Tipico Sportsbook
@Champion Brands
DTM Kawasaki
Amwell Auto Body
Williams Napa
Prime Design Landscaping