DEVAULT RACES TO VICTORY IN BRIDGEPORT'S RON FAISON MEMORIAL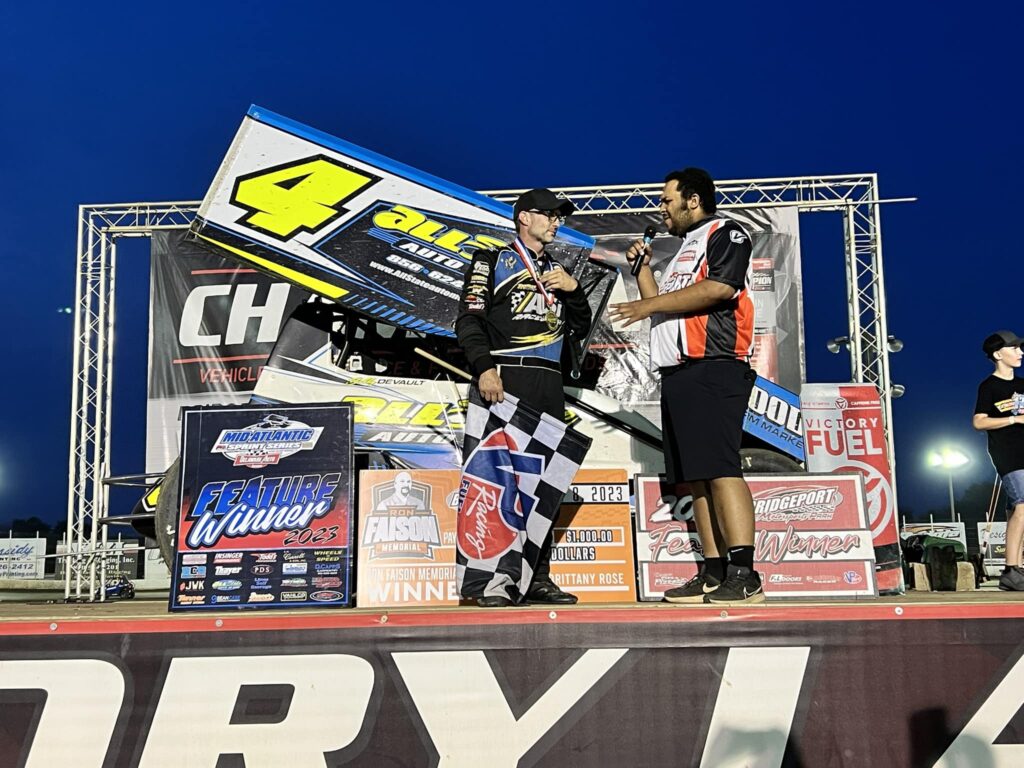 Bridgeport, NJ – It was John W Kay Electric night at the Bridgeport Motorsports Park where Bob DeVault raced to the win in the Second Annual Ron Faison Memorial Race for the Delaware Auto Exchange Mid Atlantic Sprint Series (MASS). Mike Hughes made it three-in-a-row in the Tipico Sportbook Street Stocks while Eric Jennings became the first repeat winner in the North East Wingless Sprints (NEWS) on the High Banks.
Ron Faison, the father-in-law and father to Doug and Brittany Rose, was an integral part of the Rose's acquisition of the Bridgeport Motorsports Park. He was the face behind the concessions during that first season and could be seen delivering food orders to the skyboxes or cold beverages to the drivers during the heat of the summer. He also played a role in several driving careers, including Joseph and Jordan Watson during the go-kart days and beyond. This race was created to honor Ron following his passing and it is a special race for any driver to win.
It was special for Bob DeVault. "I wanted to say thanks to Doug and Brittany for having this race and the extra purse that is involved," DeVault stated. The win was worth $1,000 to the race winner.
The Bridgeport tracks have been a big part of DeVault's racing career – from the 270 Micro Sprints on the quarter mile that was originally located on the backstretch of the 5/8th mile track, 600s on the current Spirit Auto Center quarter mile and then a 305 sprint car victory on the 5/8ths. His win on Saturday night, completed his efforts with his first win on the 4/10th mile banked track.
Second year driver, Shelby Kelly, drew the pole for the twenty-five lap feature event and then grabbed the lead at the start. It took three attempts to get that first lap scored but once the race got underway, it never slowed again until the checkered flag waved.
Kelly, who had absolutely no racing experience of any kind prior to her Rookie season with MASS in 2022, looked like a veteran as she raced ahead of the field for the first half of the race. By lap eleven, Kelly was racing through lapped traffic and that's when DeVault closed in on the leader. The two drivers raced side-by-side to the start/finish line on lap fourteen with DeVault scored as the new race leader.
After battling back, Kelly settled into second as DeVault began to pull away from the field.
It was DeVault for the win over Kelly who had her best finish to date. Jeff Paulson finished third over Tim Iulg and point leader, Buddy Schweibinz. Kevin Nagy finished sixth with Rick Stief, DJ Tanner, Andy Best and Dave Brown completing the top ten at the checkered.
DeVault became the fourth different winner in the four MASS events completed on the High Banks this season. DeVault adds his name to the list of winners that includes Eddie Wagner, Tim Iulg and Kevin Nagy.
F&L Door heat races were won by DeVault, Tim Iulg and Larry McVay.
Eric Jennings became the first repeat winner in Bridgeport events for the North East Wingless Sprints.
"How about this place," Jennings exclaimed from Champion Brands Victory Lane. "You could run anywhere!"
Chris Allen, Jr. and Lee Nardelli made up the first row of wingless sprints as the field headed to the green. Allen grabbed the lead with Nardelli and Jennings right behind the leader. Nardelli and Jennings battled for several laps before Jennings was able to secure the runner-up spot.
Allen was next on Jennings' radar. Allen was able to hold off the challenger for several laps but Jennings had the lead for lap seven. Jennings then drove away from the field as the race went non-stop.
It was Jennings for his second 2023 Bridgeport win over Allen, Nardelli, Brian Spencer and Joe Kata. Shea Wills finished sixth followed by Dan Malley, Chris Welowski, Eric Miller and Walt Fletcher.
Chris Allen was the winner of the John W Kay Electric heat race.
Saturday night marked the eighth race of the 2023 season for the Tipico Street Stocks and Mike Hughes raced to this third win of the season. Only three drivers have earned Street Stock victories this season – Tom Wills, Jr. (4), Hughes (3) and TJ Henry (1).
Jeramy Doerr raced with Chris Allen, Jr. to take the lead on the first lap of the feature event. Hughes quickly moved into second.
Doerr led through lap eight but Hughes was challenging at every opportunity. Doerr and Hughes were side-by-side to complete lap five but it wasn't until lap nine that Hughes was able to pull ahead. Tom Wills, Jr. challenged Drew Brocklebank in the final laps but Brocklebank was able to hold on to the position.
Hughes took the win over Doerr, Brocklebank, Wills and Allen.
Chris Allen, Sr. was the winner of the Victory Fuels heat race.
There were open practice sessions for both the Danny's Pizza Pizzazz Modifieds and Precision Hydraulic & Oil 602 Sportsman in preparation for the STSS event on Sunday.
Saturday night action will feature the Modifieds, 602 Sportsman, Street Stocks as well as the 4 Cylinders and Xcel 600 Modifieds.
DELAWARE AUTO EXCHANGE MID-ATLANTIC SPRINT SERIES FEATURE (25 LAPS)
Bob DeVault, 2. Shelby Kelly, 3. Jeff Paulson, 4. Tim Iulg, 5. Buddy Schweibinz, 6. Kevin Nagy, 7. Rick Stief, 8. D.J. Tanner, Jr., 9. Andy Best, 10. Dave Brown, 11. Cory Cornell, 12. Tim Tanner, 13. Josh Bricker, 14. Jared Kreider, 15. Keith Anderson, 16. Danny Buccafusca, 17. Eddie Wagner, 18. Cody West, 19. Dan Leaper, 20. Kenny Laureno, 21. Larry McVay, DNS – Aiden Borden, Dirk Rimrott
PRECISION HYDRAULIC & OIL NORTHEAST WINGLESS SPRINT FEATURE (20 LAPS)
Eric Jennings, 2. Chris Allen, Jr., 3. Lee Nardelli, 4. Brian Spencer, 5. Joe Kata, 6. -Shea Wills, 7. Dan Malley, 8. Charles Welowski, 9. Eric Miller, 10. Walt Fletcher
TIPICO SPORTSBOOK STREET STOCKS (15 LAPS)
Mike Hughes, 2. Jeramy Doerr, 3. Drew Brocklebank, 4. Tom Wills, Jr., 5. Chris Allen, Sr., 6. Terry Chaney, 7. Nick Sandone, III, 8. Wes Camp
Thank you to everyone that makes the Kingdom of Speed Possible…..
VP Fuels
Liberty Kenworth
Church's Auto Parts
Premio Sausage
Precision Hydraulic & Oil
Millville Glass & Door
Design For Vision
Rodota Trucking & Excavating
Scrappy's Auto Service
Hyper Racing
Izzi Trucking & Rigging
Danny's Pizza Pizzazz
Vahlco Wheels
Ellery's Pub & Grill
Ice Less llc.
Hoffman Discount Parts
JPA Masonry
Weaknecht Archery
Spirit Auto Center
Foley Caterpillar
Hisko Lowboy
Lineman Racing
Cenco Oil
Bob Hilbert Sportswear
Cassidy Painting
TW Metals
Hessert Chevrolet
Triple R Truck Parts
John Blewett Scrap & Waste Recycling
Pioneer Pole Buildings
F&L Doors – FLDoors.com
EZ Work Trucks
J&S Electrical
Melton Industries
Pro Tek Roofing
Johns Manville
Beacon Building Products
KOA Camp Grounds
@Victory Fuel
@Tipico Sportsbook
@Champion Brands
DTM Kawasaki
Amwell Auto Body
Williams Napa
Prime Design Landscaping